Where the Mekong ends
In Can Tho, the largest Vietnamese city in the Mekong Delta, traditional river life is still alive
Update - 4 JUL 2019 AT 04:00
The Cai Rang Floating Market is one of the largest of its kind throughout the Mekong Delta in Southern Vietnam. Despite having gained such knowledge from a brief pre-trip research I wasn't expecting much when I slumbered my way onto the tour boat early in the morning to visit the place. Back home in Thailand I have seen too many floating markets already.
But once I made it to Cai Rang, I was wide awake with thrill. This is different, very different.
First of all, the Can Tho River, the venue of the floating market, is much larger than the canals where Thai floating markets are located. This river, which is filled with loaded vessels of various sizes, is about 130m wide. (For comparison, the Chao Phraya at Taksin Bridge measures about 198m in width.)
And unlike the Thai version, this Vietnamese floating market is meant for wholesale business. I was told a purchase usually starts from 10kg for each item. Buyers in small boats come from deeper parts of the delta to shop for farm produce from the large vessels, each of which hoist samples of the goods -- pineapple, watermelon, yam and so on -- on long bamboo poles so that would-be customers can see from afar what it has for sale.
The sheer number of boats and people doing this scale of trade on the water was an eye-opening sight. But my local guide Louie told me there used to be a lot more boats than what I saw.
"These days, there are more markets on land which are not only more convenient for buyers but also easier for the government to collect tax. And for the traditional merchants, living on a boat is no fun. You're confined in a tiny space with no modern facilities, not even a proper toilet," Louie explained, adding that their children, the new generation, do not want to live that kind of life. So the number of boats keeps shrinking.
"One day these markets might be gone," he said.
I asked Louie if he thinks tourism would help keep the floating markets of his hometown going as in Thailand. The young man shook his head.
"That wouldn't be the case here. In Cai Rang, it's a wholesale trade. The tourists have very little to do with what's going on. Of course, there are vendors who sell food and beverages to visitors. But that's not the market's main business," Louie replied.
Well, let's hope that Louie's fear will not come true in the near future. For travellers, putting into account other threats to the great but fragile delta and the traditional lifestyle of its residents, which include dams in upstream countries on the Mekong and the annual floods caused by heavy rains and rising seawater aggravated by global warming, maybe it's wise to put the Mekong Delta on the priority list.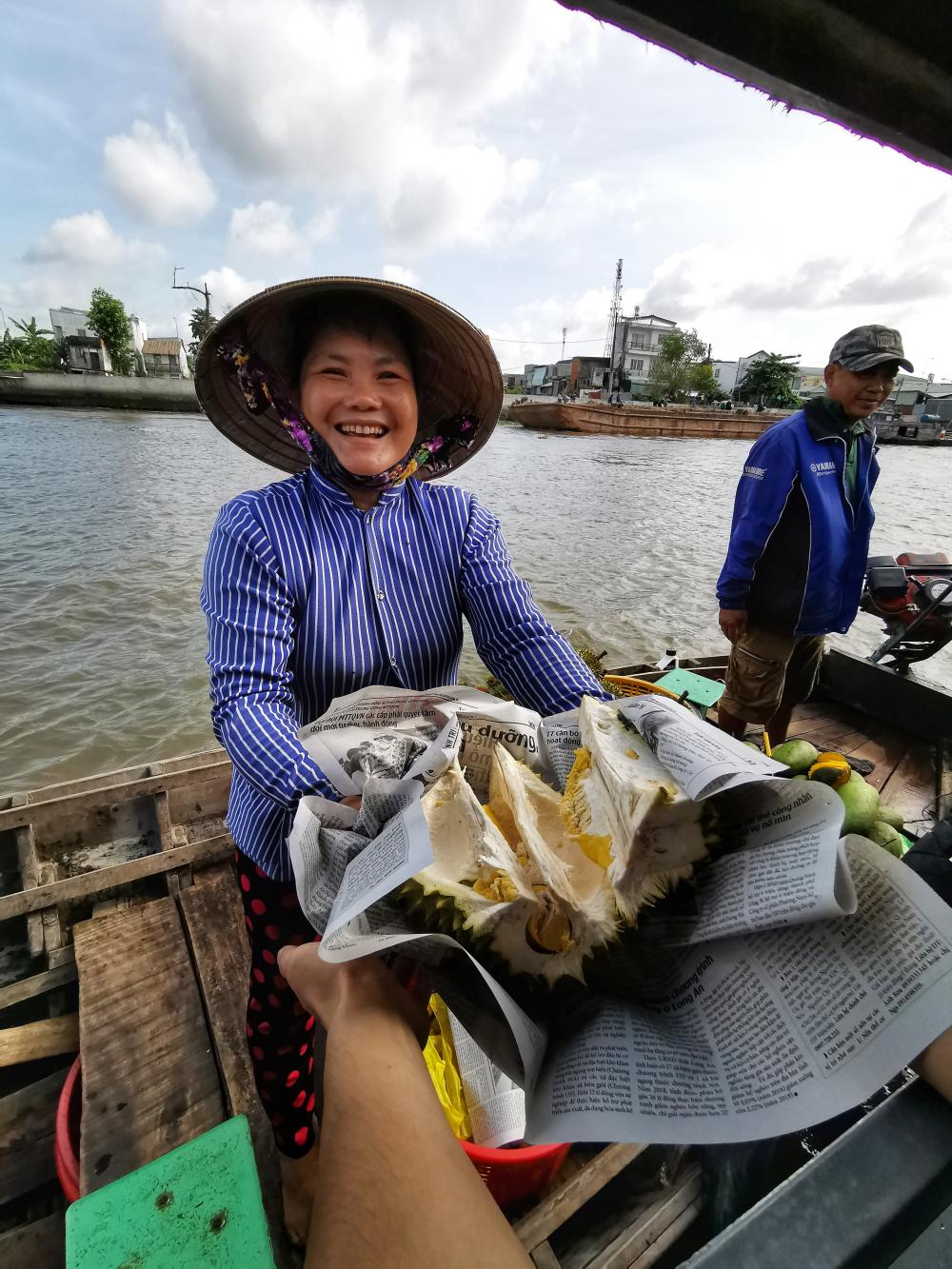 Just before my plane landed in Can Tho, I looked out the window and found that in the city's outlying areas, roads are still not prevalent and houses pack both sides of rivers and canals. I was excited because it was a sign that the waterways still play a major role in the livelihoods of the locals. These people still adhere to their traditional way of life. When I later got the chance to explore these areas, I found my initial assumption was right.
One of the must-go places for visitors to Can Tho is the Binh Thuy Ancient House located in the northern part of the city, just 5km or so from Can Tho International Airport. Built in 1870, the Duong family mansion shows an impressive blend of Western and Eastern (Chinese and Vietnamese) styles of architecture. If you have a feeling that this house looks familiar, don't be surprised. It has been a shooting location for several films, including the controversial 1992 erotic drama The Lover, starring Jane March and Tony Leung Ka-fai.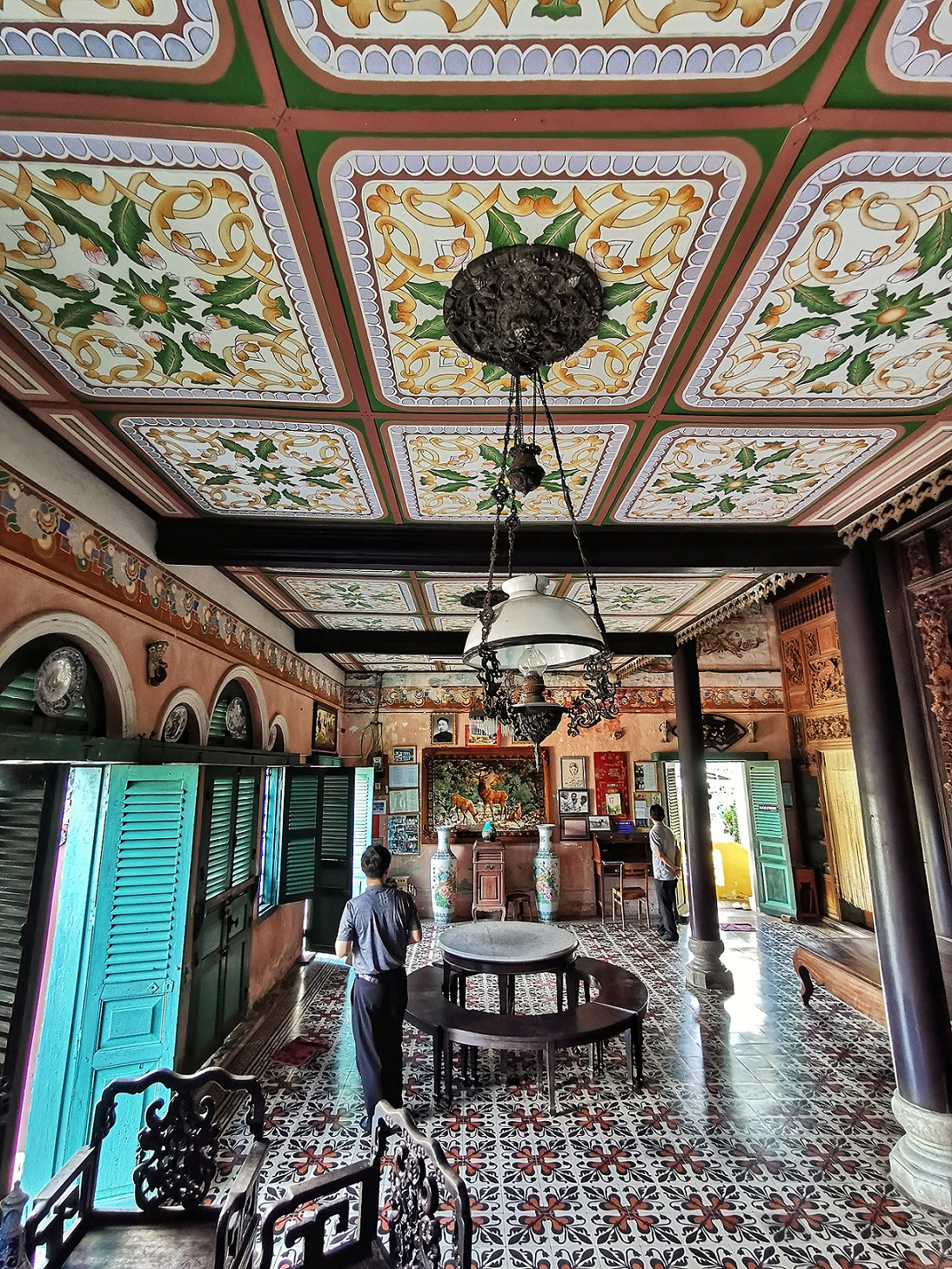 Besides agriculture, food is another pride of the local people. As a result, a stopover at a rice noodle, or a vermicelli workshop, or both, is usually included in the itinerary of organised tours in Can Tho. At these family-run facilities, visitors can try their hand at certain steps of the production process. The rice vermicelli workshop I visited doubles as a restaurant. The fresh-made vermicelli was served with deep-fried pork and elephant ear fish. The fish is a popular dish in the Mekong Delta. The elephant ear fish (Osphronemus exodon) looks very much like the giant gourami (Osphronemus goramy), which are served in Thai restaurants. That, of course, is explained by the scientific names of both fishes.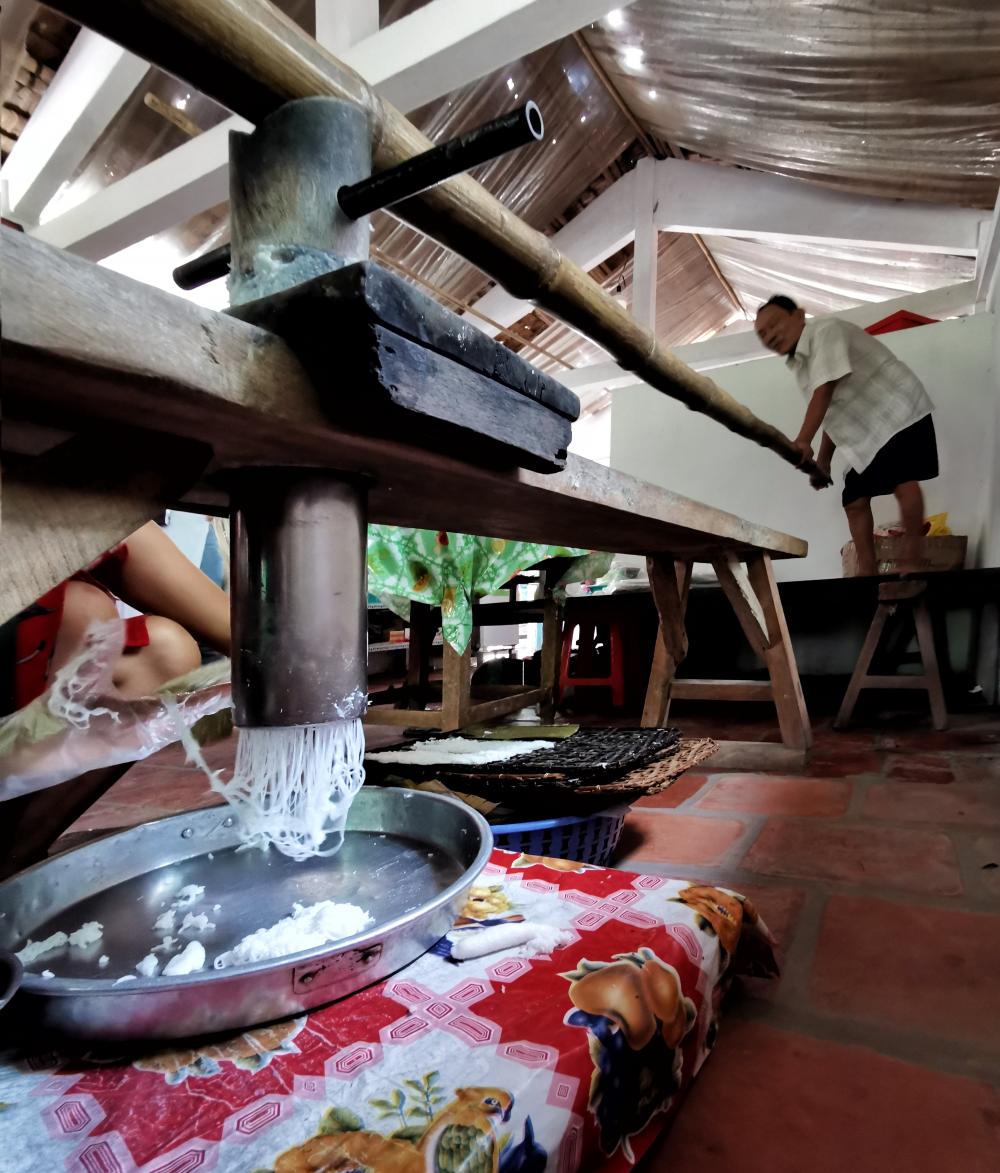 While on the Mekong Delta, I couldn't help but think of the livelihood of Thai people in the past when daily activities relied greatly on waterways. This black and white photo, probably a century old, showed up on my newsfeed the other day. It depicts a traditional floating market on a canal in the Central Region of Siam (now Thailand). If you get the chance to visit Can Tho, maybe you too can notice not just the differences but the similarities.
Orchard visits are an essential part of most tour programmes in Can Tho. For Thais, this may not be so interesting since, unlike Western tourists, we are no strangers to tropical fruits such as papaya, coconuts, rose apple (chom phu in Thai), durian or jackfruit. But I found a cacao farm to be exciting. The trees are also cultivated in Thailand but the practice is not widespread, and I had never visited a farm that produces chocolate, cocoa butter, cacao cider and a variety of other products made from the plant. I also got to see cacao flowers and try the soft white flesh of fresh cacao, which I think tastes pretty much like mangosteen but with the texture of custard apple (noi na in Thai).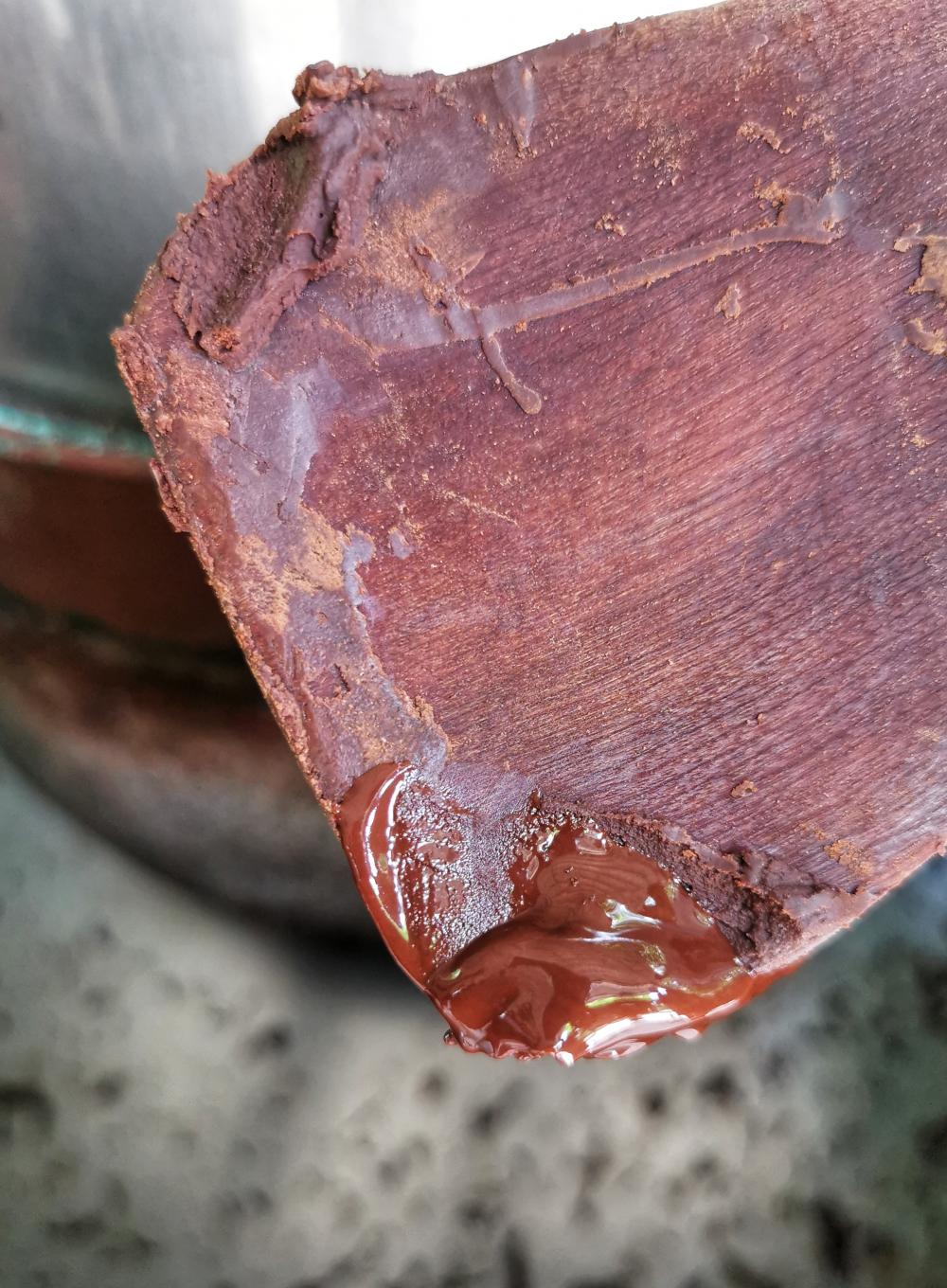 Apart from the Mekong and its distributaries like the Hau River, this massive delta of southern Vietnam also features intricate and extensive networks of canals. These waterways are teeming with boats of various sizes and purposes, from small boats that carry one or two fishermen to huge, several-storied party boats that can accommodate hundreds of revellers. While the waterways remain crucial to the way of life of a lot of locals, they are regarded by those who prefer motorised land travel as obstacles. Bridges have therefore been built to connect areas formerly "separated" by rivers and canals. However, the Can Tho Bridge is the only one that spans the vast Hau River. Since its opening in April 2010, the 2.75km-long cable-stay bridge has been an iconic landmark of its namesake city.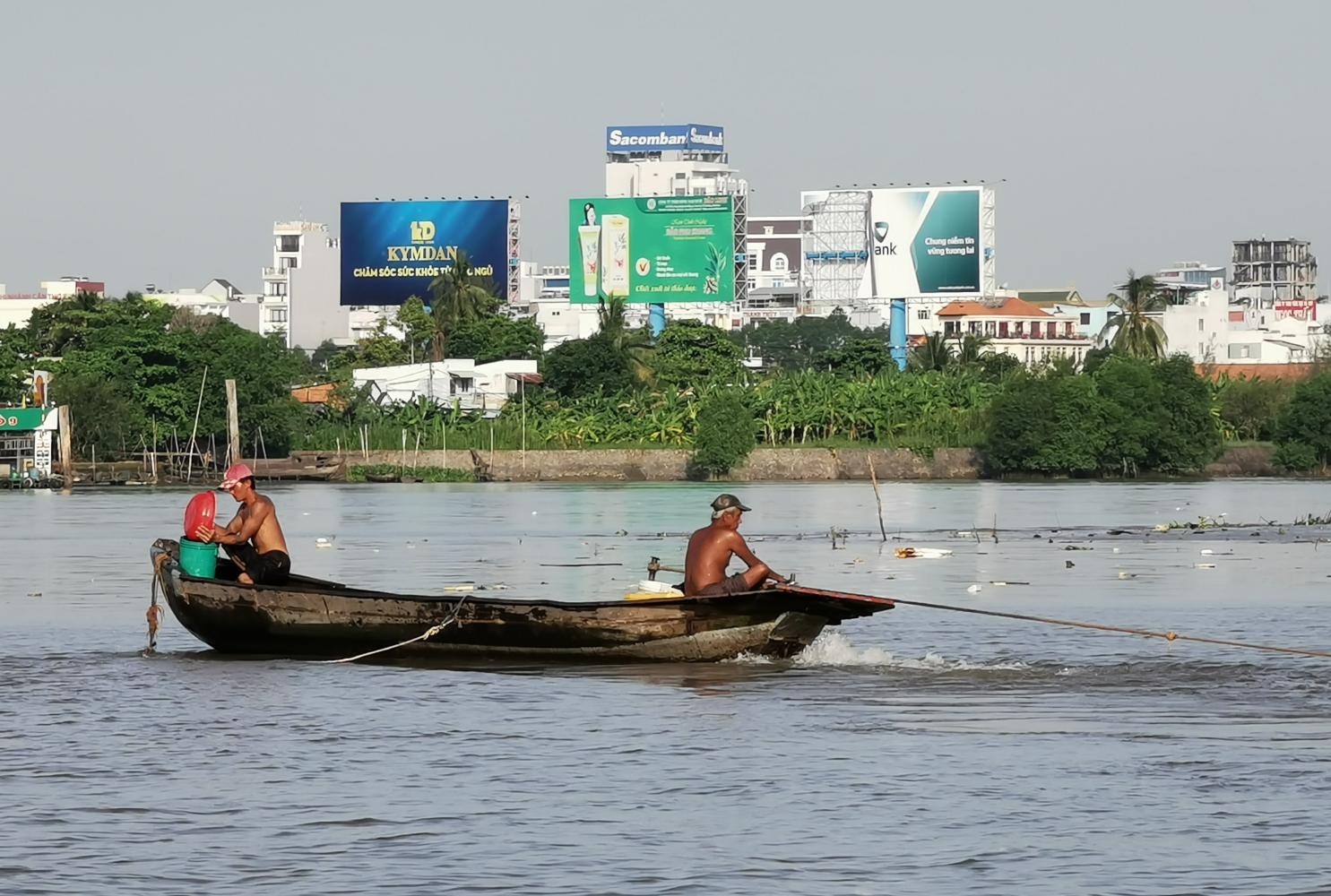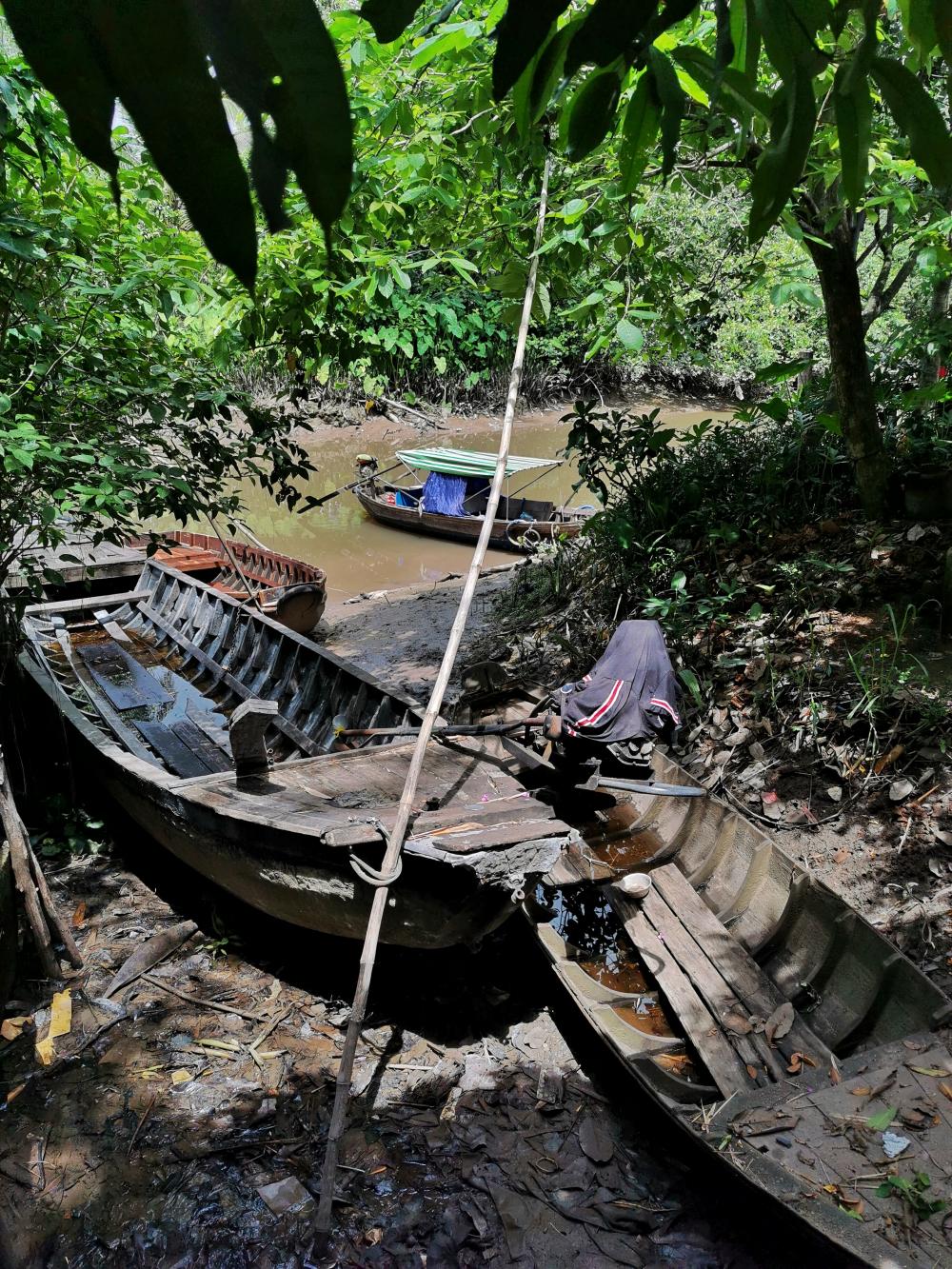 Travel Info
In the past, travelling from Thailand to the Mekong Delta was usually done via Ho Chi Minh City, about 170km northeast of Can Tho. Since May, with AirAsia's launch of direct flights between Bangkok and Can Tho, visitors can skip the three-hour road trip. The new service is available on Tuesday, Thursday and Saturday. The flight takes about 1.30 hours.
To visit the Cai Rang Floating Market and other attractions accessible by boat, you can either join an organised trip or hire a private boat from the city's tourist pier. Once you're in Can Tho, such services are not difficult to find. But, of course, if you have time before the trip, it's best to do some homework. Online reviews sometimes include recommended tour guides. Louie, the young local who took me around, has good knowledge of his hometown and speaks fluent English. He works for a company called Can Tho River Tour.
Thank you!
BANGKOK POST - NEWSPAPER SECTION: LIFE, WRITER: PONGPET MEKLOY