39 Hours in Can Tho, Viet Nam
By Thomas Can Tho JULY 17, 2018
Phong Dien floating market
Can Tho city is around 3,5 hours drive from the South of Ho Chi Minh City. From Can Tho airport, you can fly to Phu Quoc island easily. You can get to Rach Gia by bus then take the speed boat for Phu Quoc (Rach Gia – Phu Quoc [08:00-10:30] and [13:00-15:30] 330.000VND/ticket/adult). It is getting more and more popular for tourists to end the Vietnam trip in Chau Doc (120 km from Can Tho) where the speed boat take them (around 5 hours) upstream the Mekong river to the capital of Cambodia, Phnom Penh.
Cantho has hit the green spot. It's attractive and charming, filled with rustics, non-variant villages, boundless rice fields, floating markets and great local food — and still very affordable. ($29-$49 usd per person highly recommended this top local quality tours www.canthorivertour.com; with a combination of scooter and boat trip, two real local floating markets, two traditional villages, one home-cooked family lunch and abundant orchards, and original local foods with country road and shade in one day!)
On arrival
3pm
1. The rice bowl of Vietnam
About 8km away from your hotel, discovering and stopping over at incredible rice fields and dykes, water melon farms, flower villages in Cantho with local, crossing dozens of "monkey bridges" over many river tributaries, reaching deeply to the magic root - a famous old giant ficus tree. To be an insider in Cantho, Insider's Mekong tour is a must experience. ($39 usd per person highly recommended this top local quality tours www.canthorivertour.com/tours/insiders-mekong )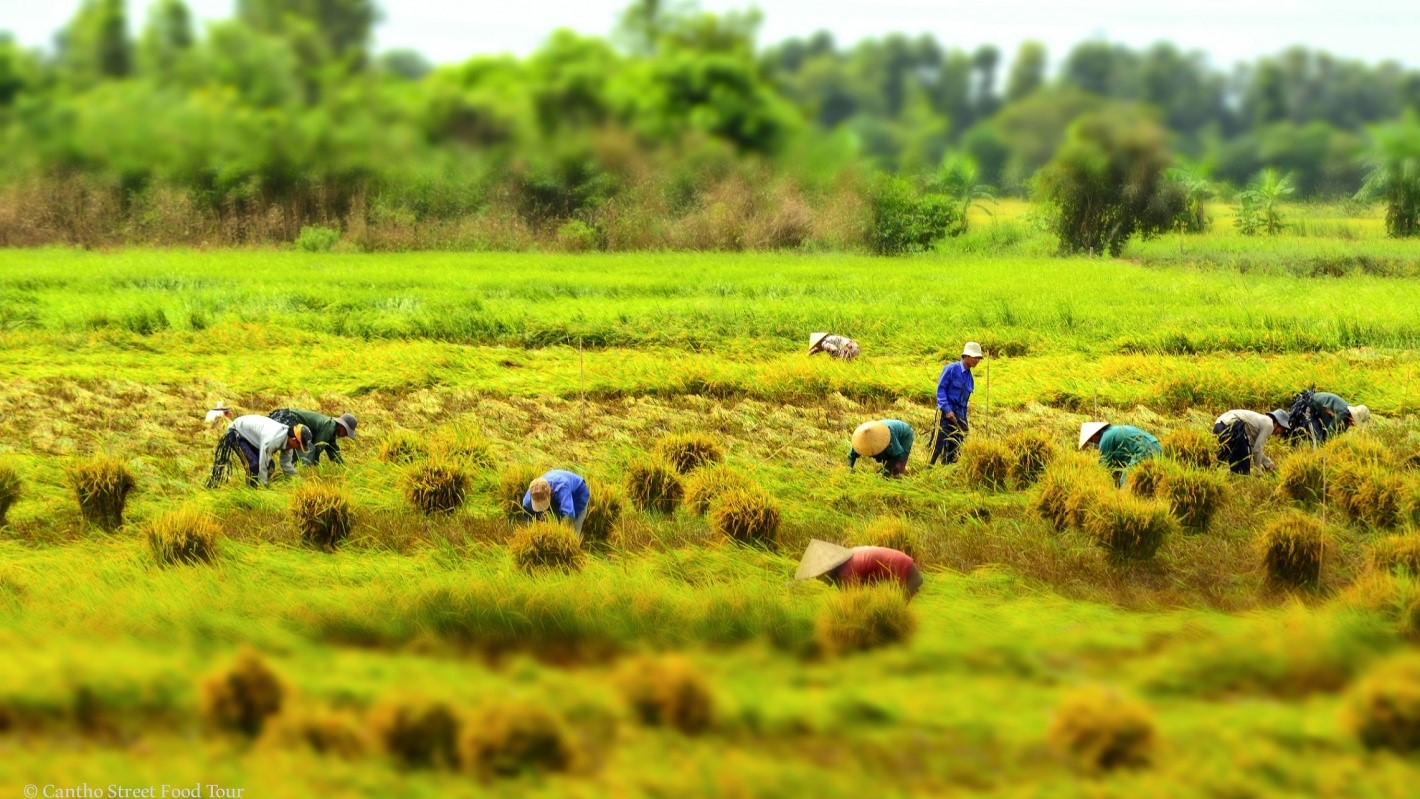 Harvesting on the farm
A famous old giant ficus microcarpa tree
5.45pm
2. Sunset on mighty Mekong river
After glimpsing a little Cantho, you should get on the boat to enjoy the sunset with a cup of tea and beers. Sometimes you see chidren taking an afternoon bath along the bank, sometimes you meet the fisherman, the boat families who are hurry up home before the dark.
The romantic, relaxing time with the sunset in Cantho
7pm
3. Can Tho Walking Street Food
It is really fantastic to experience Can Tho after dark. (www.canthorivertour.com/tours/can-tho-walking-street-food ; $29 per person). Food is for eating, and good food is to be enjoyed. Your own food expert will take to enjoy top authentic local foods where the native eat and have fun. And you'll also have a perfect night at a stunning coffee shop with cool views. Well, good friends, food foods, good laughs and good walk are in one OMG night.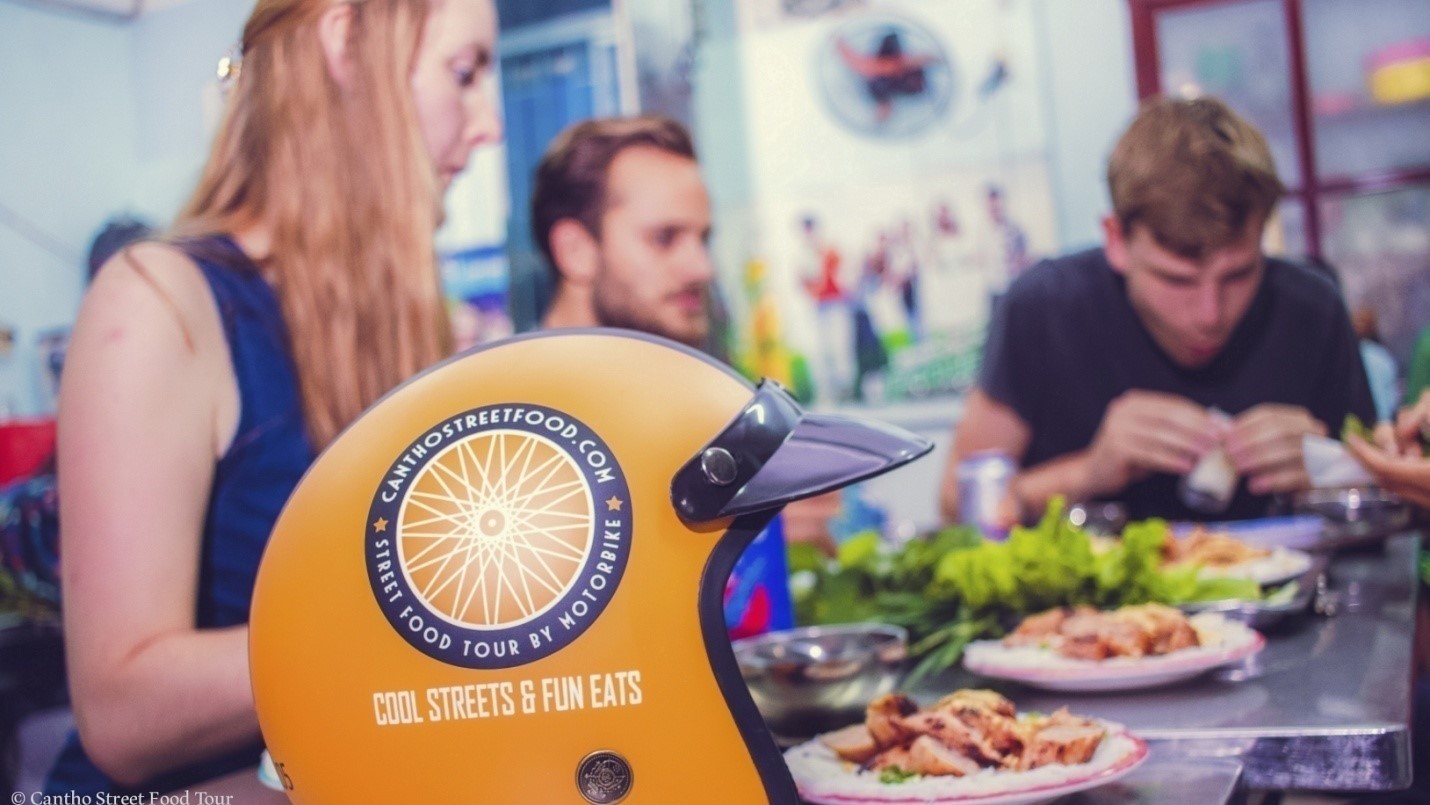 Can Tho walking street food tour and the fun time with local
Day one
6am
4. Cai Rang floating market & Phong Dien local floating market
Ride to the countryside and take the boat to the Cai Rang floating market. Experience the wholesale market, the life on river, the children activities there. Enjoy the tour on the floating boat and say GOOD… MORNING… VIETNAM! GOOD… MORNING… MEKONG!
Phong Dien floating market is the next. Get on the riverside watching tower, have a cup of coffee, feel and enjoy the gentle sampan market where the local sell to local only. (www.canthorivertour.com/tours/a-real-mekong ; $49 per person)
Phong Dien floating market with a bird's eye view of the riverside tower
10am
5. Organic cacao farm
Come to a lush green farm and interesting stories about cacao and Mr Cacao and understand the homemade chocolate, wine, cosmetic … from cacao fruit. Have a glass of cacao milk and don't forget to taste cacao wine. Really good!
Fresh cacao fruit and organic cacao milk with ice
11.30am
6. Traditional homemade noodle family
The more we go onto the villages the more we love villagers. Mr Chin traditional homemade noodle house is a haven of tranquility, comfort and generous open-hearted hospitality. You won't forget their smiles after visiting. You should consider Mr Chin noodle house – the original local one, not the others.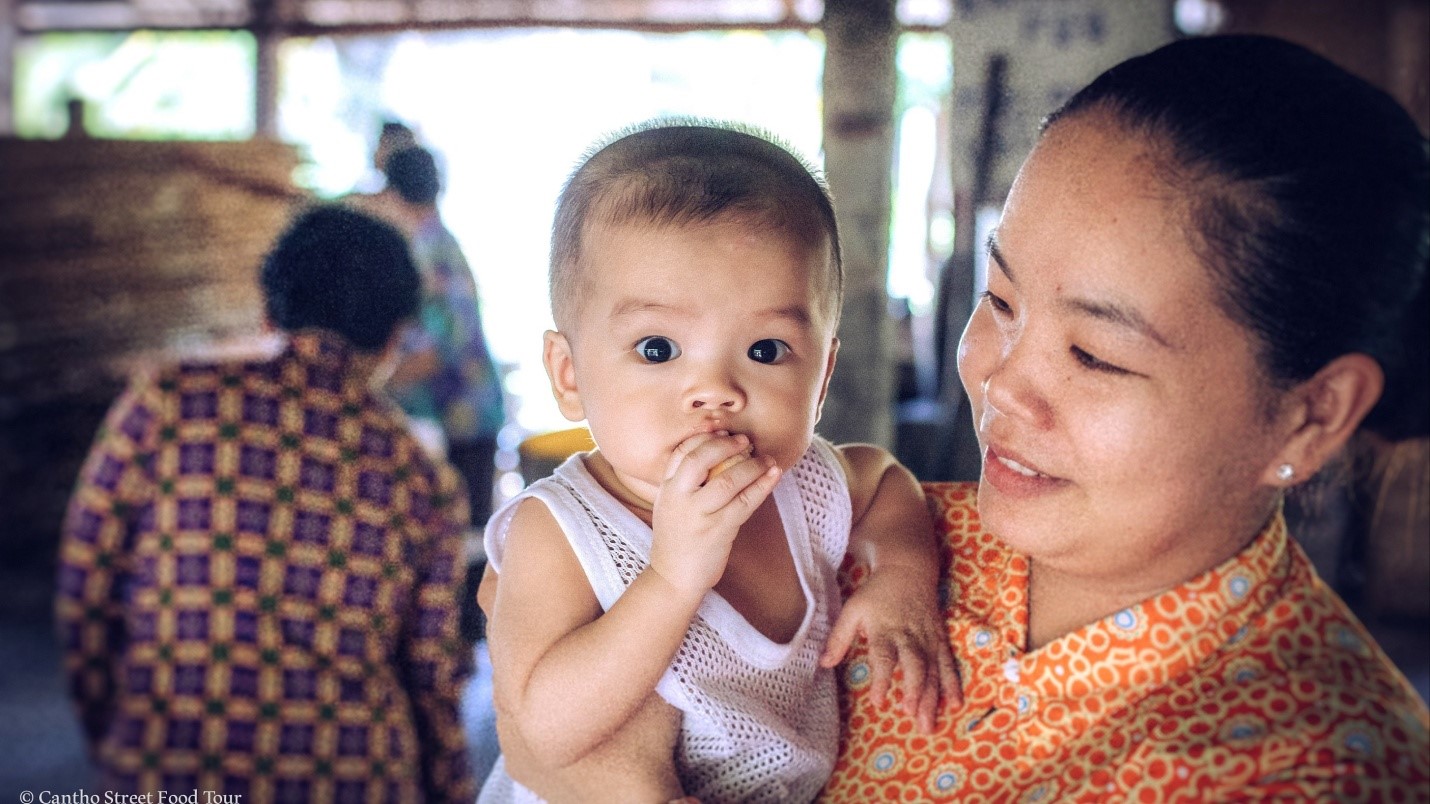 Beautiful eyes in the village, Cantho
2pm
7. Egg coffee and book
Sit down in a cool coffee shop, write down things happen in the morning, enjoy a cup of egg coffee, open the book and forget the hot climate out there.
4pm
8. Pool and happy hour
On the banks of one of the world's greatest and most mysterious waters in Vietnam's 'Deep South', Victoria Can Tho Resort is considered as the flagship of Victoria Hotels & Resorts in the Mekong Delta… and first luxury hotel in the region. This splendid colonial-style hotel is set in magnificent gardens on the banks of the Hau River.
Victoria Can Tho Resort
Day two
10am
9. Leave for, Chau Doc, Tra su Cajeput forest, then Combodia
About 120km away from Cantho, 2,5 hours drive. Tra Su forest is Endowed with not only natural beauty but one of the area's most peaceful spots which belongs to the national specialized forest system in Southern Vietnam. In the Mekong Delta, it is an ideal destination for ecological and scientific researchers, nature lovers and those who love wild animals thanks to its wonderful diverse wildlife. (www.canthorivertour.com/tours/wildlife-forest ; $79 per person)
Tra su Cajeput forest, Chau Doc, Mekong, Vietnam
Sleep less, travel more, respect more.
Thomas Can Tho