20 Top Things to Do & See in Can Tho, Viet Nam
Whether you're an adult, a kid, or just a kid at heart, Can Tho is the perfect place to find adventures and new experiences that the entire family will remember for a lifetime. With the wide variety of activities CanThoRiverTour.com offers to families, even the toughest critic in your crew is sure to crack a smile. Remember to take lots of pictures!
By Thomas Can Tho – September 17, 2019
* The Official Guide to Can Tho Vietnam - Can Tho River Tour
* Guide to Visit Cai Rang & Phong Dien floating markets in Can Tho
* Best Time to Visit Can Tho | Weather & Travel Advice By Months
* Can Tho Airport (Code VCA) in Vietnam | Guide to Go Fast & Safe
Cai Rang floating market is the largest floating marketing in Can Tho, and one of the most popular ones in the world. It is crowded and noisy (with many tourist boats), but still fascinating. The market, about 6 km (3,7 miles) or 30 minutes by boat from Can Tho, starts trading at around 4 am, in the dark, and is usually finished by 10 am. It really is worth making a super-early start to watch dawn break over the market. More exclusive unique exploration is to see the untouched 2,800-hectare forest & wetland conservation, an ideal destination for nature lovers where have many rainforest birds (seasonal). Explore and weave in the wetland by boat gives the best Mekong experience about wildlife and nature. Top tip: Bring raincoat & insect repellents if you plan to see the nature in the wet season.
2. Binh Thuy Ancient House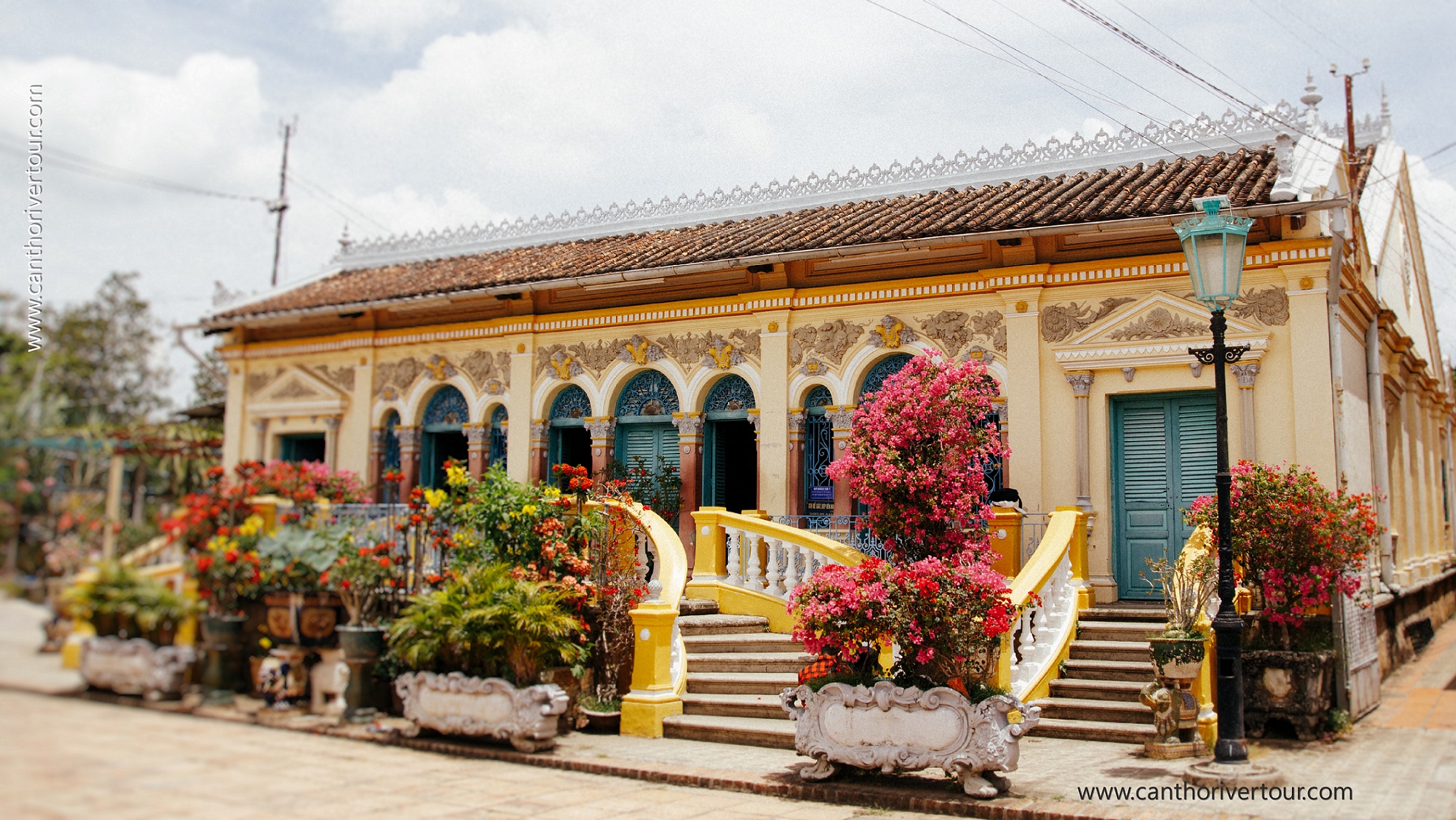 About 6 kilometers from downtown Can Tho, the house is filled with features that represent rural areas in the Mekong Delta region. The Binh Thuy French-style house, the privately owned house, was built in 1870 by the Duong family and still managed by the eighth generation. The house was famously used in the 1992 movie "L'Amant" ("The Lover") based on the novel of the same name by French author Marguerite Duras, directed by Jean Jacques Annaud, telling the story of a young Marguerite Duras and her lover Huynh Thuy Le, set during Indochina times. Top tip: 15,000 VND/ticket, hours: Daily 7 am to 12 pm & 2 pm to 6 pm. There is usually a member of the Duong family at home to provide limited commentary on the house if you are lucky.
A visit to Muoi Cuong Cacao Farm is both fun and educational experience. Visitors can see and learn how fruit from a cacao tree becomes familiar cacao products such as cacao powder, butter...and of course pure chocolate in a manual way by the local. Top tip: 40,000 VND/ticket, hours: Daily 7 am to 12 pm. Try yummy cacao wine if you are lucky.
What a wonderful moment to see the flowers as the local's smile on Tet coming holidays. The worth visiting village in Can Tho is the Ba Bo Flower Village where nearly 250 households in the 20-hectare community cultivate dozens of species of flowers and ornamental plants. The only way to unlock the secret of the flower villages is to take Can Tho cycling tours or Can Tho motorbike tours. Top tip: Free entrance, hours: Oct, Nov and Dec of Lunar months.
Take an exclusive tour "Romantic Sampan 247" of CanThoRiverTour.com in the afternoon & navigate quiet canals as you sit back with your loved one. See Can Tho bridge from the water as you sail through a tranquil islet. Visit the unique local brick kiln. Small bottles of fruit cider in an ice cooler box will be provided during the trip! What a romantic Mekong river moment! Top tip: Best option for afternoon boat tour if you do not want cycling or scooters.
It's located on the corner of Hoa Binh and Tran Quoc Toan streets and was established in 1976 with a total surface area of 2,700 square meters. Exhibitions (with ample English translations). The museum exhibits Can Tho historical relics about cultures and inhabitants in Can Tho through historical periods, native plant and fish specimens, rice production achievements of three main ethnic minorities: Kinh, Hoa and Khmer. Top tip: Free entrance, hours: (Tue, Wed, Thu: 8 am – 11 am, 2 pm to 5 pm and Sat, Sun: 8 am – 11 am, 6:30 pm to 9 pm).
Many of the decorative features of the temple, completed in 1896, were imported from China. Local devotees come to this small pagoda to pray before Than Tai, God of Fortune, and Quan Am, Goddess of Mercy. Inside the temple has hundreds of coiled incense hanging from the ceiling which make the temple more magical. Top tip: Free entrance, hours: Daily from 7 am to 9 pm. It is smoky from the incense.
8. Bang Lang Stork Garden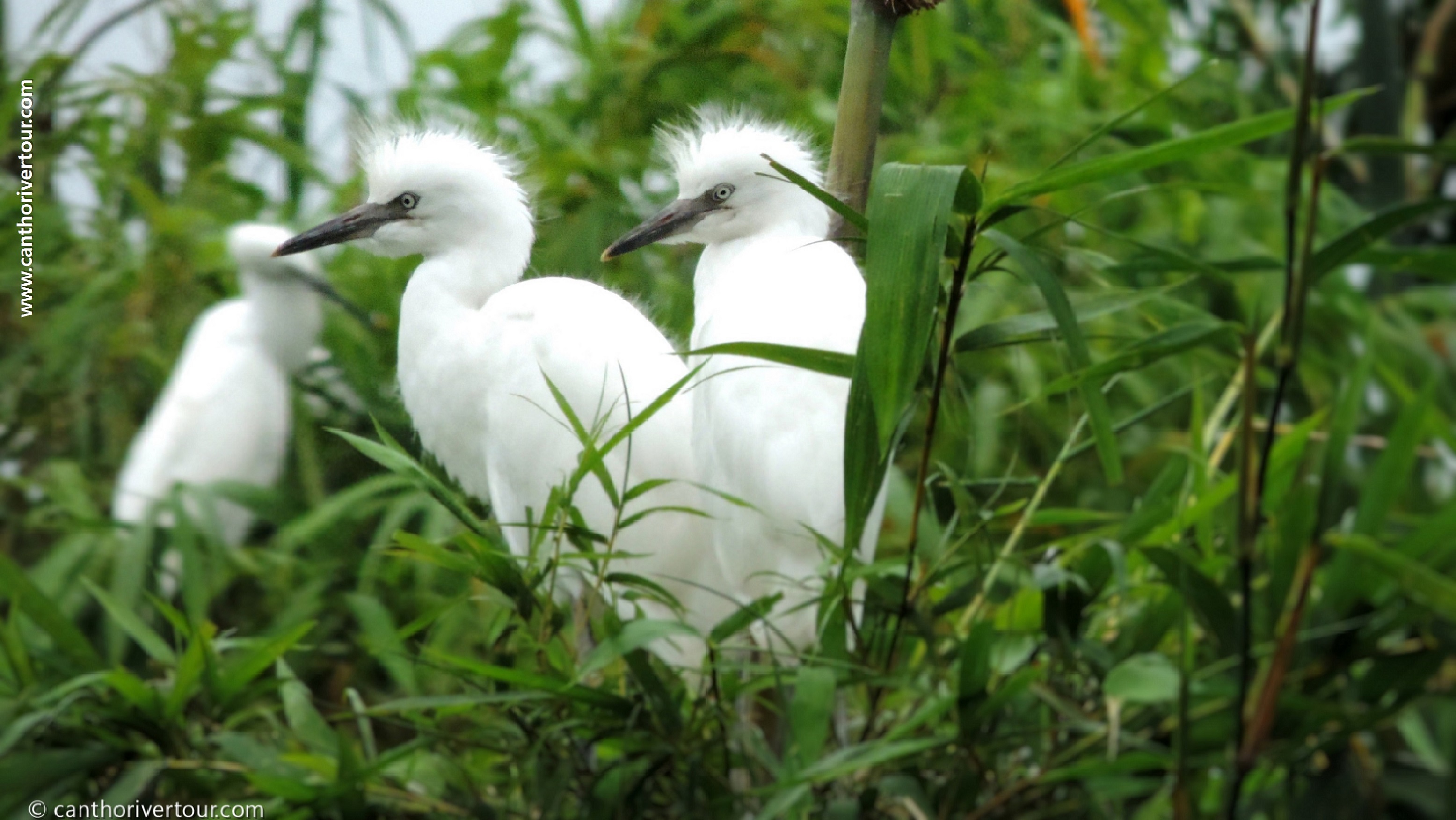 Established in 1983 and located 52 kilometers from the center of Can Tho City. Bang Lang bird sanctuary covers only about 2 hectares and is home to thousands of storks as well as many other kinds of birds like cattle egret, ibis, striated heron and painted stork. Top tip: 20,000 VND/ticket, hours: Daily 7 am to 5 pm. A small garden (man-made) of birds, not about the nature or wetland conservation.
An Angkor-like tower rises over Khmer Theravada Buddhist temple was built in the 1940s to serve and provide spiritual well-being to Can Tho's Khmer community. Inside, Doric columns blend beautifully with Asian features, such as seated Buddhas and ceramic lotuses. Top tip: Free entrance, hours: Daily 7 am to 5 pm. Wear appropriate clothing & take off your shoes.
10. Phong Dien Floating Market
About 20 km (12,4 miles) southwest of Can Tho, the Phong Dien is one of the most lively and charming markets and, as an added bonus, less popular with tourists who usually visit the Cai Rang floating market that's closer to Can Tho. There are just about 20 small nice sampans (traditional farmer's boat uses in small villages and small canals) boats every day. Top tip: Free entrance, hours: Daily 5 am to 8 am. You need to start the early tour at 4:30 am from Can tho city center.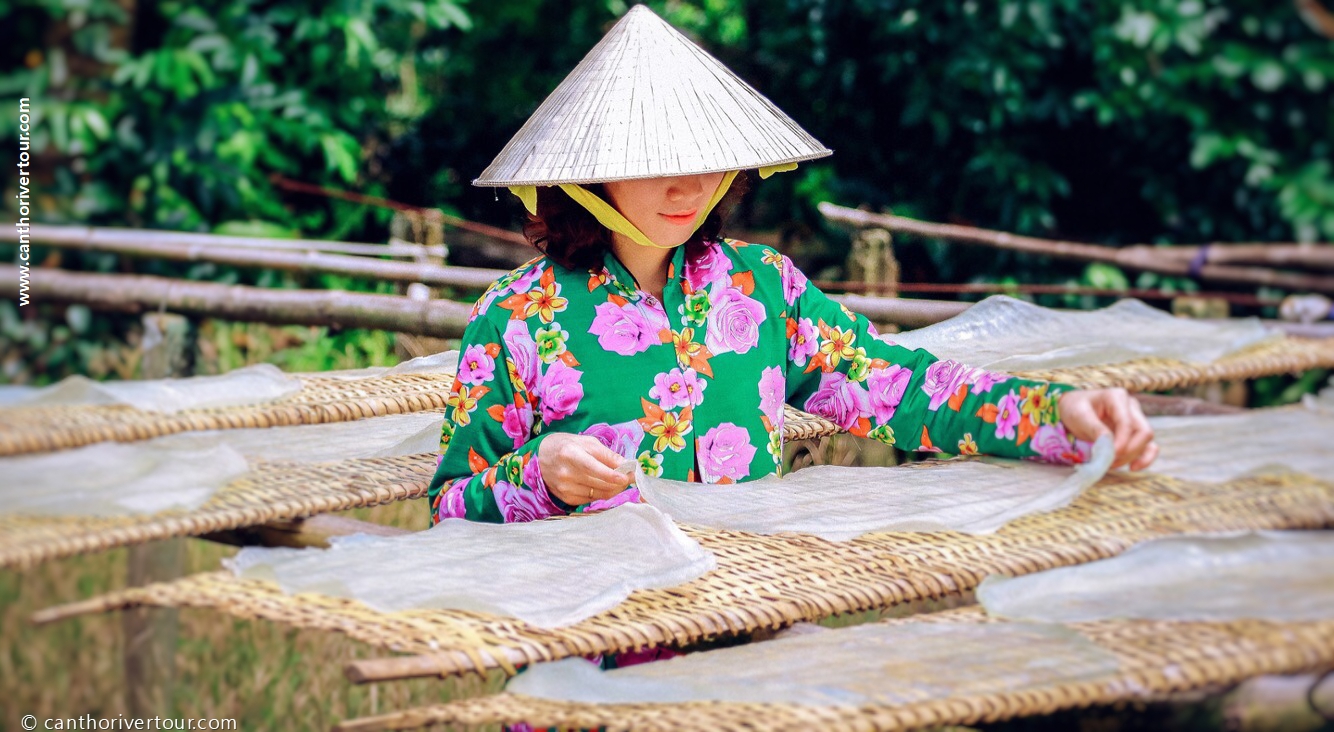 During Can Tho visit, you may stop by the local family-run business to see the process of how the hủ tiếu noodles are made from mixing tapioca & rice flour, then steaming, drying, and cutting the noodles. And you can taste the local Vietnamese "noodle pizza". Top tip: Entrance fee is flexible, hours: Daily 6 am to 5 pm. Find the real local noodle factory to meet your responsible travel.
12. Tropical Fruit Garden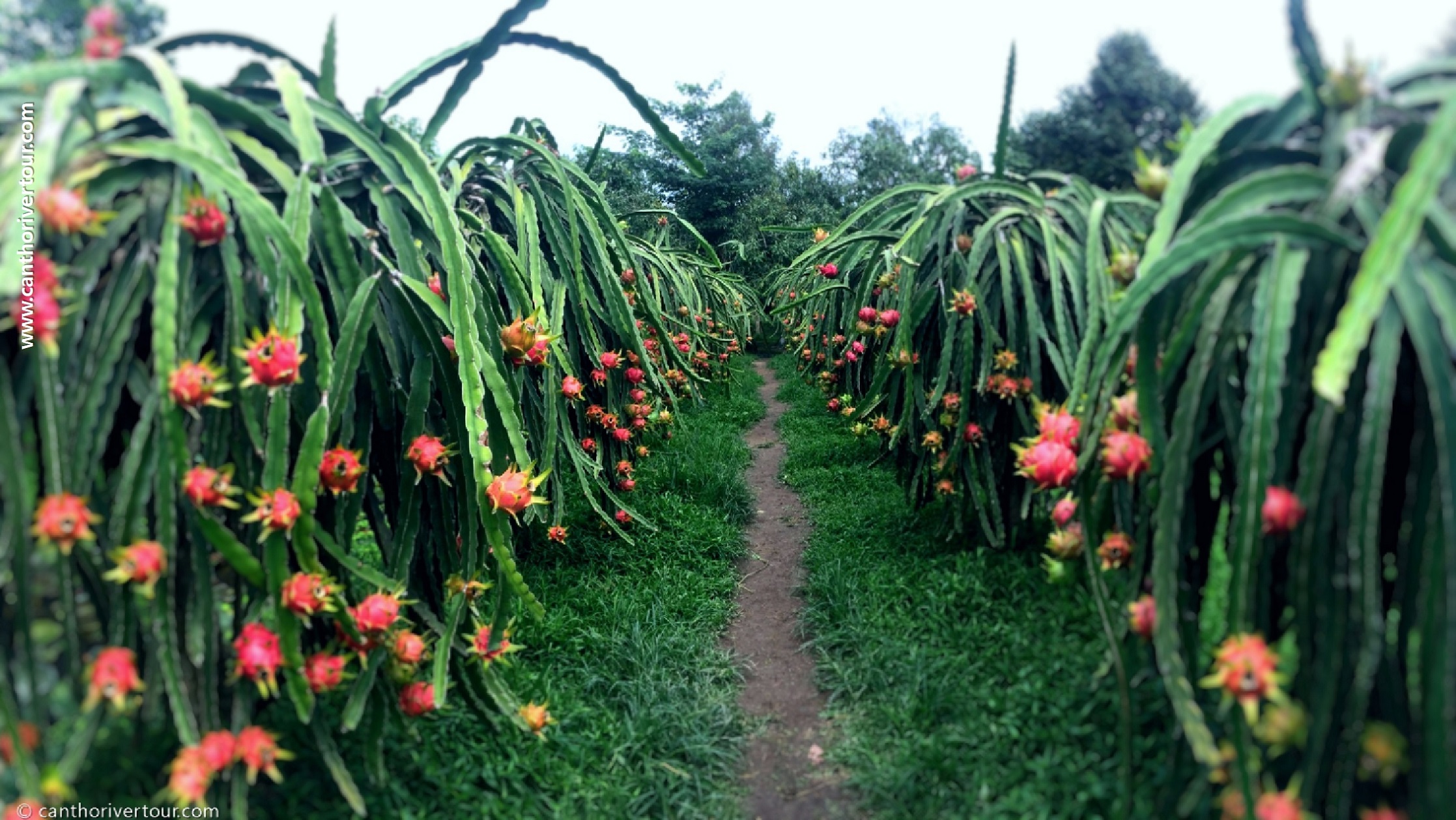 Along with floating market, visiting fruit gardens is also a must-do in Can Tho. To get to the gardens, you also have to use boats to go deep into the water maze and enter numerous small natural canals. In the gardens, you can stroll around gardens and learn how the fruits grow on the trees like mango, dragon fruit, jack fruit, rambutan, pomelo, rose apple, durian...Top tip: Entrance fee is flexible, hours: Daily 7 am to 5 pm. You can explore many fruit gardens and off the beaten track with Can Tho cycling tours.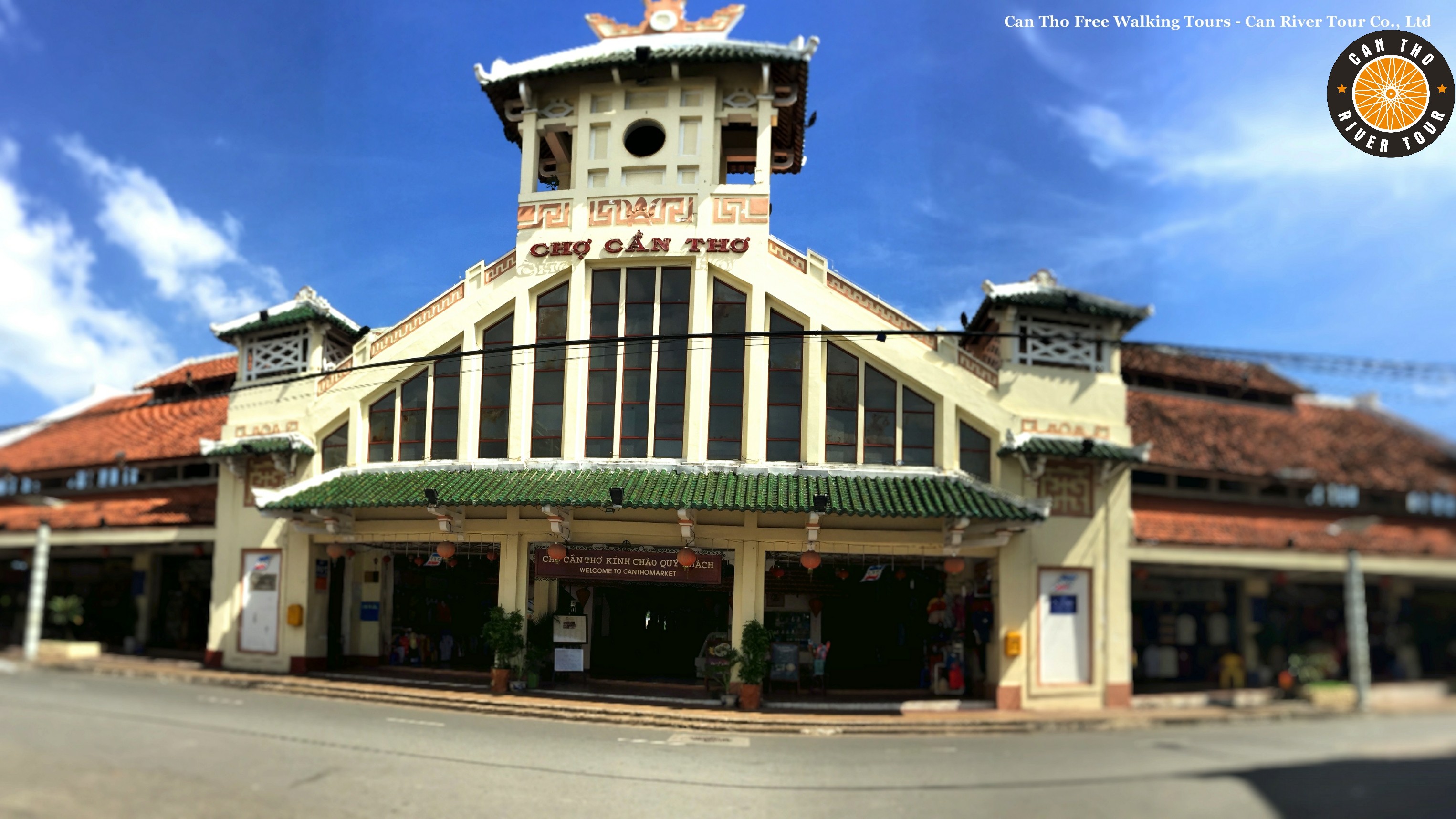 From 1912 to 1915, Can Tho market (known as Can Tho old market by the local) was renovated at the same time with Ben Thanh market (Saigon), built by the French contractor Broossard et Mopin. Due to its central location, it is convenient for visitors to pay a visit and shop. Top tip: Free entrance, hours: Daily 7 am to 9 pm. Shop and support the local. Bargain for fun.
It is divided into two zones. The first one (Ninh Kieu night market) sells clothes handicrafts, souvenirs, jewelry, foods, coffee on the pavement…and the other night market zone (coconut market) serves food from dozens of mobile stalls, with vendors who are well versed in the point-and-nod style of ordering. Food stalls start appearing at around 6 pm to 11 pm each day. Top tip: Free entrance, hours: Daily 6 pm to 11 pm. Make sure you used to with the street foods.
Can Tho grand prison is an important historical site to visit in the city. It was initially built by the French colonists from 1878 to 1886 but then was used by the South Vietnamese and Americans during the Vietnam War. The prison has 21 large and small rooms divided into two ranges: female prisoners and male prisoners, and some special rooms. Top tip: Free entrance, hours: From Mon to Fri from 8 am to 11 am and 2 pm to 5 pm.
It is the most famous Buddhist pagoda in Can Tho city center. On the busy corner of Hoa Binh boulevard and Nguyen Thai Hoc street is a beautiful Buddhist pagoda. Explore the five stories of the pagoda to see Buddhist statues and feel the spirit. Top tip: Free entrance, hours: Daily. Wear appropriate clothing & take off your shoes when visiting the higher levels.
Located on the bank of the Hau River in Can Tho city, is a calm and chill place to walk along in the late afternoon or the sunset time. Ninh Kieu Park is large and spacious, planted with many beautiful ornamental trees, the highlight of green grass growing and weaving among white cement panels and the statue of Uncle Ho with 7.2m high bronze. Top tip: Free entrance, hours: Daily. Many good restaurants here.
18. Can Tho Walking Bridge
If you get to the park by night, it is a time to see Can Tho walking bridge with 2 gigantic lotus flowers made of thousands of neon lights that brighten up the whole area. This is a great spot for taking pictures from the rooftop bar or just simply enjoying the great river view of Can Tho at night. Top tip: Free entrance, hours: Daily. Beautiful to see the views from sky bars.
19. My Khanh Tourist Village
It is best for Vietnamese. My Khanh village, which was established in 1996, features a man-made garden-style eco-tourist. My Khanh tourist village is located at 335 Lo Vong Cung Street, Phong Dien District, about five kilometers from Can Tho City by road or river, with an area of more than 50,000m2 to meet the needs of entertainment and relaxation. Top tip: 60,000 VND/ticket, hours: Daily 5 am – 10 pm. If you're an animal lover, you may not want to come here. Although the pig and dog races are adorable to watch.
About 5km from Can Tho City. It was restored many times. The last time was 1909 and has remained until now. Its architecture is different from other temples in the North. The rare and perfect house preserved with the specific character of Mekong Delta in the past century. The house connects with a garden, quite wide but not very long. The festival at Binh Thuy Temple is one of the most famous traditional festivals in Can Tho City. If you come here in April and December, do not forget to join this festival. Top tip: Free entrance, hours: Daily 7:30 am - 10:30 am & 1:30 pm – 5:30 pm.
Bring your hat, sunglasses, and sunblock.
If you plan to spend a night in ecotourism areas, bring mosquito repellent cream.
When visiting the floating market or doing any river tours, choose reputable providers and boats equipped with lifebuoys and jackets. Safety is a priority!
Can Tho is magnificent itself, but if you have enough time, don't forget to put other Mekong Delta places onto your bucket lists such as Chau Doc, Sadec, and Soc Trang…
Bring the raincoat if you travel to Can Tho from August to October, as Can Tho and Mekong Delta always look fantastic in the full rain and full sun.
Hopefully, the above tips will help you to come up with a great plan for your adventure in Can Tho City. Have a safe trip!
Sleep less, travel more, respect more.