Can Tho Travel Blog - How to Spend 3 Days in Can Tho, Vietnam
Can Tho is very different compared to the rest of Vietnam, and it is by far the hidden city we have ever traveled to in Vietnam where everyone can explore the real floating markets, amazing nature & wildlife, and many cozy villages by bike.
By Thomas at CanThoRiverTour.com | Jan 01, 2020 | The Official Guide to Can Tho
* The Official Guide to Can Tho Vietnam - Can Tho River Tour
* Guide to Visit Cai Rang & Phong Dien floating markets in Can Tho
* Best Time to Visit Can Tho | Weather & Travel Advice By Months
* Can Tho Airport (Code VCA) in Vietnam | Guide to Go Fast & Safe
Time: In Can Tho, it is best visited between December and February when it is cool and dry at night. If you don't like excessive heat, avoid March to June. And if you're planning on visiting during the rainy (flooding) months, check out our Best Time to Visit Can Tho - Weather & Travel Advice By Months to make your holiday extra activities.
Transportation: In some ways, Can Tho is a very well connected city with the rest of Mekong delta like Phu Quoc, Con Dao, Sadec, Soc Trang, Chau Doc, Ben Tre, Ho Chi Minh City…by bus, car, boat, ferry, airplane.
Accommodation: If you prefer staying away from the hustle of the city center, you should consider staying on Au islet and riverside which has a fantastic selection of boutique hotels & resorts. It is better for Can Tho River Tour & Wildlife as well.
Water: Tap water is supposed to be safe but I advise against drinking it. It's just not worth the risk. My advice is to use bottled water and save yourself from unexpected stomach problems.
Internet: Really Wi-Fi can be found everywhere from hotels to coffee shops. If you are from the EU you should be able to use your own data plan too. Or contact the hotel for the sim card.
Hidden gems: Unlock Can Tho's secrets, landmarks and spots that you'd be mad to miss, even if you're a local.
Learn a little Vietnamese: Sure, you can get by with just speaking English, but trying to speak the local language opens you up to much more polite & meaningful interactions with people. Even if you are not perfect or you make a mistake, your effort is appreciated. At a bare minimum: Hello = xin chao (sin chow), yes = dạ vâng, no = không (khom), thank you = cám ơn (kahm uhn), I'm sorry = tôi xin lỗi (toy sin loy), no problem/you're welcome = không có gì (khong koh zi), goodbye = tạm biệt (tarm byeet), I'm vegetarian = tôi ăn chay (toy an chayh), How much? = bao nhiêu? (baow nyew), spicy/hot (cay), Oh My God (ôi..choy...oi…).
What we liked: We really liked the floating markets and saw locals trimming the fresh pineapple for us, then had the cycling ride in the untouched villages and along canals by CanThoRiverTour.Com. OMG this exploration was so much wonderful and fun with 2 wheels and a fantastic local lunch. The chill out romantic sampan 247 tour for watching the sunset on Mekong river was a wow afternoon. Green green and evergreen canal in the forest too.
What we didn't like: Not many river restaurants to eat, and not many local shops to "look, love & buy", even not many Can Tho's secrets to explore, just okie rooftop bar (but we got the romantic sampan 247 for the sunset) and hard to find more things to do in Can Tho beside the Can Tho wildlife tours. The transportation from Can Tho to Saigon, Rach Gia, Chau Doc is easy, but it so hard to use the local bus for other places like: Soc Trang, Ben Tre, Sadec, Vinh Long.
Day 1 – Morning
On your first day you get to jump right into best things to do in Can Tho on the river and around the city center. This way, you'll be able to get your bearings and get a feel for the city before exploring further.
Make sure you set the alarm early today so you can have a wonderful sunrise, then continue your adventures in Can Tho small canals.
If you don't have breakfast already organized at your hotel we recommend holding off until you get to your first stop of the morning.
Cai Rang floating market. The largest floating marketing in Can Tho, and one of the most popular in the world. It is crowded and noisy (with many tourist boats), but still fascinating. The market, about 6 kilometers (3,7 miles) or 30 minutes by boat from Can Tho, starts trading at around 4 am, in the dark, and is usually finished by 10 am.
Phong Dien floating market. About 20 km (12,4 miles) southwest of Can Tho, the Phong Dien is one of the most lively and charming markets and, as an added bonus, less popular with tourists who usually visit the Cai Rang floating market that's closer to Can Tho. There are just about 20 small nice sampans (traditional farmer's boat uses in small villages and small canals) boats every day.
How to get to the markets. From Ho Chi Minh city: Take a sleeping Futa bus to go to Can Tho (about 5 hours one way) and rent a sampan by yourself or book a package Can Tho Tour From Ho Chi Minh 1 Day (HCM-Can Tho-HCM), start at 04:00 AM from Ho Chi Minh city; 119$ per person). From Can Tho: You can start the floating market tours with many departures at 4:30 AM, 5:00 AM, 6:00 AM, 7:00 AM
Day 1 – Afternoon
After having some lunch from one of the Can Tho Restaurants around the area (or you should have a light lunch at the Ninh Kieu Wharf), it's time to continue the sightseeing.
You are sure to love the afternoon, as you're going to do one of the most romantic and untouched places in the entire city.
Take an exclusive tour "Romantic Sampan 247" of CanThoRiverTour.com in the afternoon & navigate quiet canals as you sit back with your loved one. See Can Tho bridge from the water as you sail through a tranquil islet. Visit the unique local brick kiln. Small bottles of fruit cider in an ice cooler box will be provided during the trip! What a romantic Mekong river moment! Top tip: Best option for afternoon boat tour if you do not want cycling or scooters.
Day 1 – Evening
You're probably tired after a massive day of sightseeing, but it's not time to head to bed just yet, because there's still plenty of amazing things to do on this Can Tho 3-day itinerary.
It is divided into two zones. The first one (Ninh Kieu night market) sells clothes handicrafts, souvenirs, jewelry, foods, coffee on the pavement…and the other night market zone (coconut market) serves food from dozens of mobile stalls, with vendors who are well versed in the point-and-nod style of ordering. Food stalls start appearing at around 6 pm to 11 pm each day. Top tip: Free entrance, hours: Daily 6 pm to 11 pm. Make sure you used to with the street foods.
If you get to the park by night, it is a time to see Can Tho walking bridge with 2 gigantic lotus flowers made of thousands of neon lights that brighten up the whole area. This is a great spot for taking pictures from the rooftop bar or just simply enjoying the great river view of Can Tho at night. Top tip: Free entrance, hours: Daily. Beautiful to see the views from sky bars.
From 1912 to 1915, Can Tho market (known as Can Tho old market by the local) was renovated at the same time with Ben Thanh market (Saigon), built by the French contractor Broossard et Mopin. Due to its central location, it is convenient for visitors to pay a visit and shop. Top tip: Free entrance, hours: Daily 7 am to 9 pm. Shop and support the local. Bargain for fun.
Day 2 – Morning
Walk around the city center and get deeper look at some historic sides. Or Chill out at hotel swimming pool.
It's located on the corner of Hoa Binh and Tran Quoc Toan streets and was established in 1976 with a total surface area of 2,700 square meters. Exhibitions (with ample English translations). The museum exhibits Can Tho historical relics about cultures and inhabitants in Can Tho through historical periods, native plant and fish specimens, rice production achievements of three main ethnic minorities: Kinh, Hoa and Khmer. Top tip: Free entrance, hours: (Tue, Wed, Thu: 8 am – 11 am, 2 pm to 5 pm and Sat, Sun: 8 am – 11 am, 6:30 pm to 9 pm).
Many of the decorative features of the temple, completed in 1896, were imported from China. Local devotees come to this small pagoda to pray before Than Tai, God of Fortune, and Quan Am, Goddess of Mercy. Inside the temple has hundreds of coiled incense hanging from the ceiling which make the temple more magical. Top tip: Free entrance, hours: Daily from 7 am to 9 pm. It is smoky from the incense.
About 6 kilometers from downtown Can Tho, the house is filled with features that represent rural areas in the Mekong Delta region. The Binh Thuy French-style house, the privately owned house, was built in 1870 by the Duong family and still managed by the eighth generation. The house was famously used in the 1992 movie "L'Amant" ("The Lover") based on the novel of the same name by French author Marguerite Duras, directed by Jean Jacques Annaud, telling the story of a young Marguerite Duras and her lover Huynh Thuy Le, set during Indochina times. Top tip: 15,000 VND/ticket, hours: Daily 7 am to 12 pm & 2 pm to 6 pm. There is usually a member of the Duong family at home to provide limited commentary on the house if you are lucky.
Day 2 – Afternoon
It is fair enough to know both history and nature.
You are crazy to experience the unique flooded forest as a wetland conservation. Cacao farm is on the way as well.
The more you know about the wildlife the more you respect the nature and our tropical rainforest in Mekong Delta. About 40 kilometers from Can Tho city, the wetland conservation is one of Can Tho hidden gems for anyone who loves to see a real Mekong Delta beside Can Tho floating market.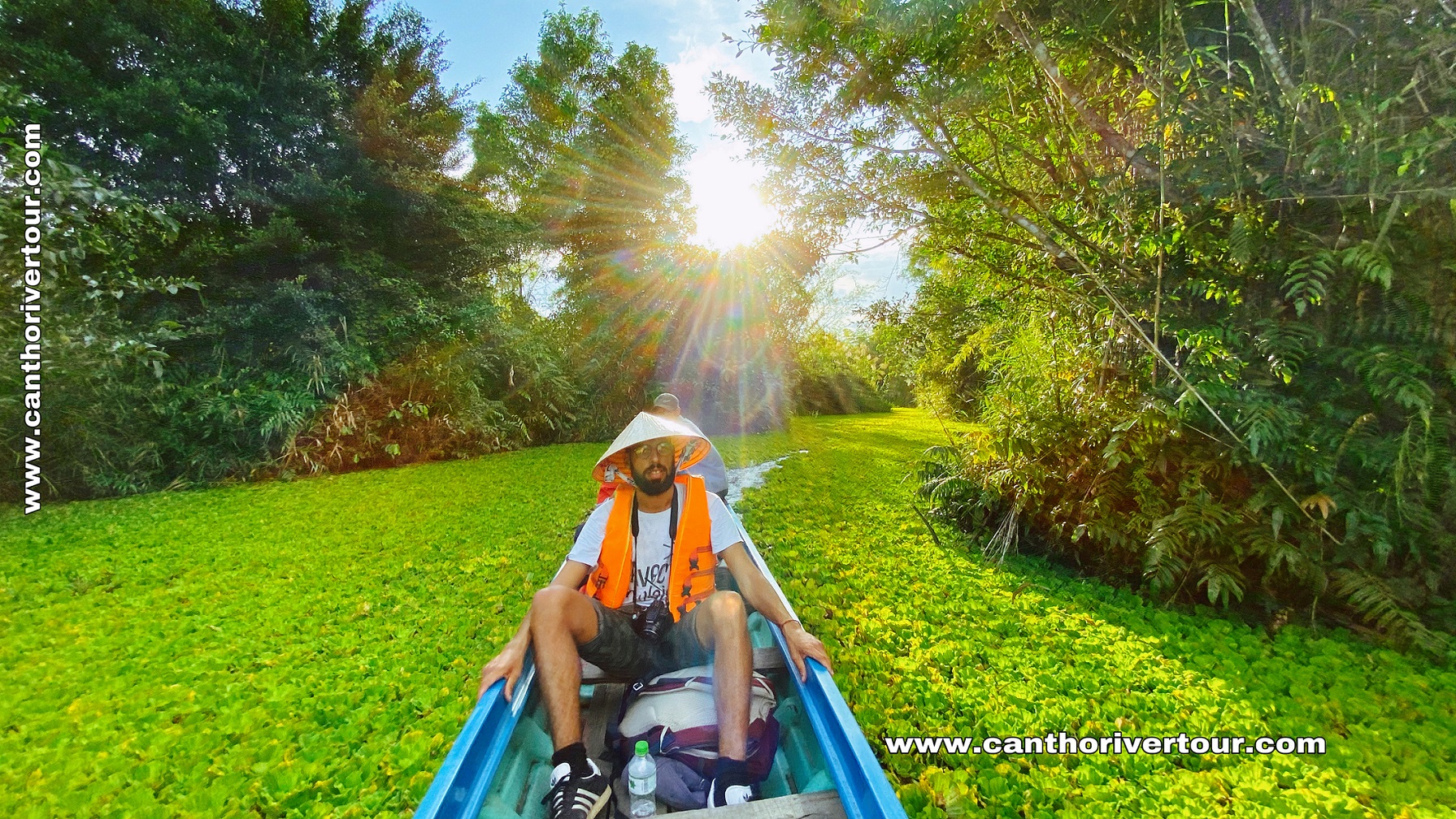 Only best way to explore this place is to take the boat and some customized activities there by CanThoRiverTour.com. Wonderful natural green canals and feeling like nowhere in Vietnam. If you are a true nature lover, you would love to be in the nature any time like us!
Best time to visit Can Tho is in the dry season from Dec to Apr, but best time to visit this wetland is in the flooding and raining season when the fish, foods, birds come back & wake up the nature and wildlife. Top tip: Bring raincoat & insect repellents if you plan to see the nature in the wet season.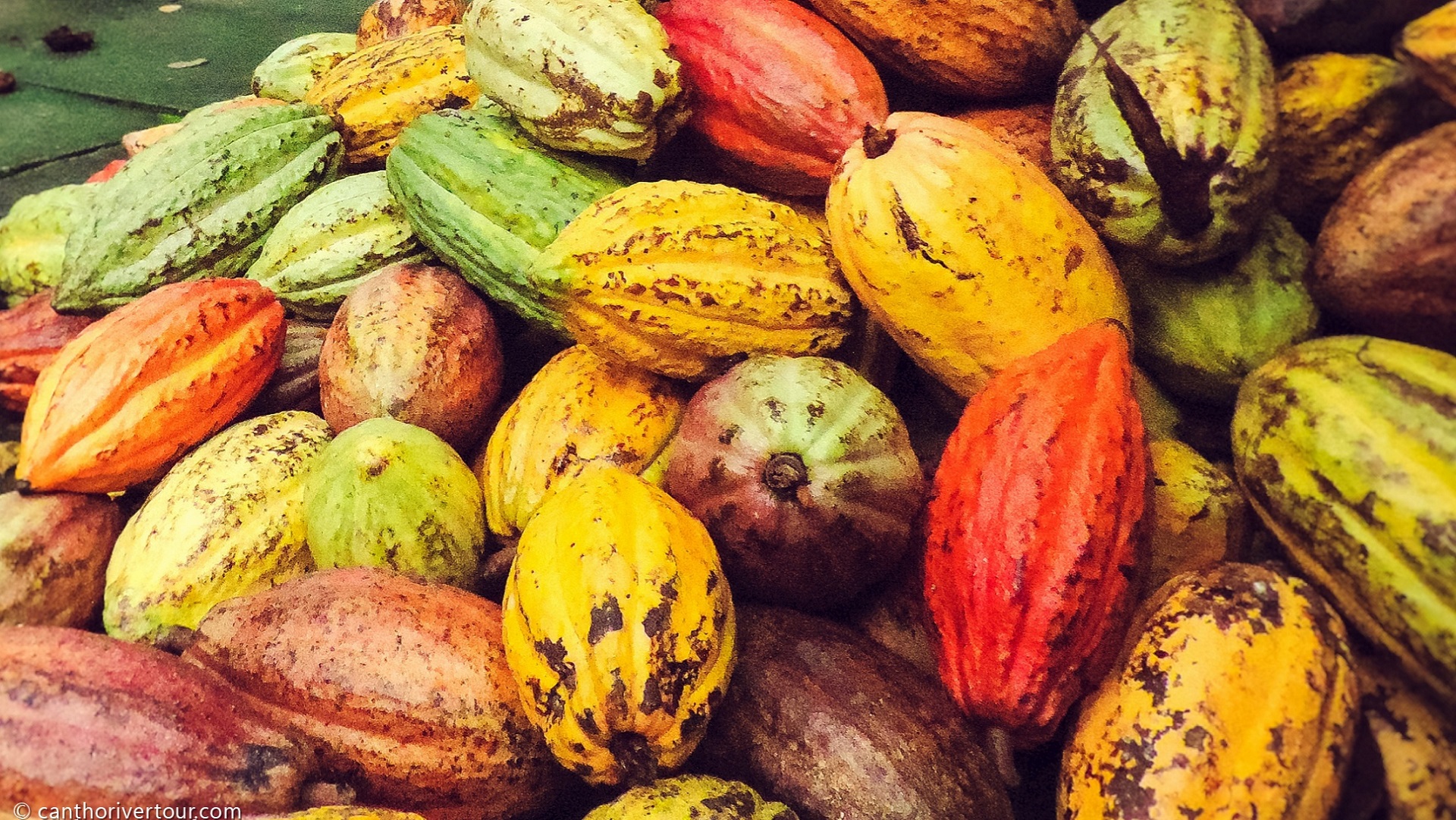 A visit to Muoi Cuong Cacao Farm is both fun and educational experience. Visitors can see and learn how fruit from a cacao tree becomes familiar cacao products such as cacao powder, butter...and of course pure chocolate in a manual way by the local. Top tip: 40,000 VND/ticket, hours: Daily 7 am to 12 pm. Try yummy cacao wine if you are lucky.
Day 2 – Evening
The best way to understand the culture is via the local food. There you go! Can Tho Waking Street Food Tour. You never know how wonderful hidden gems are in this "Taste of Can Tho"
This walking foodie tour is designed for you to experience the inner city after dark. Enjoy authentic local foods where the native eat & have fun.
Day 3 – Morning
It's the last of our 3 days in Can Tho, and it's time to get out of the city center and check the home of paddy rice fields, flower village, tropical fruit garden, giant ficus tree as a heritage tree.
One of our favorite activities was a cycling ride around the village which was very cool, educational and fun trip.
What a wonderful moment to see the flowers as the local's smile on Tet coming holidays. The worth visiting village in Can Tho is the Ba Bo flower village where nearly 250 households in the 20-hectare community cultivate dozens of species of flowers and ornamental plants. The only way to unlock the secret of the flower villages is to take Can Tho cycling tours or Can Tho motorbike tours. Top tip: Free entrance, hours: Oct, Nov and Dec of Lunar months.
Along with floating market, visiting fruit gardens is also a must-do in Can Tho. To get to the gardens, you also have to use boats to go deep into the water maze and enter numerous small natural canals. In the gardens, you can stroll around gardens and learn how the fruits grow on the trees like mango, dragon fruit, jack fruit, rambutan, pomelo, rose apple, durian...Top tip: Entrance fee is flexible, hours: Daily 7 am to 5 pm. You can explore many fruit gardens and off the beaten track with Can Tho cycling tours.
Day 3 – Afternoon
It's been a whirlwind 3 days in Can Tho so far, and we're almost to the finish line.
For the afternoon on your final day in Can Tho as a rice bowl of Vietnam. We did the most adventure and fun scooter tour, you are on the back with your own local driver.
Can Tho Paddy Rice Fields
As Mekong Delta build up over the years, they get formed in the shape of a triangle and the deposits in this formation are of rich alluvium, which are ideally suited for growing wet rice, as is done now extensively in the Mekong Delta where farmers and fishermen live to pursue their vocation of farming and aqua farming. Walking around the green or saffron yellow rice fields and learning deeply about the "white gold" in Vietnam are fantastic and educational experiences in Can Tho. Top tip: Free entrance, hours: Daily. Best time to see Can Tho and its rice fields is March, April, May. Off the beaten track with Can Tho scooter tours is a must.
Can Tho Giant Ficus Tree – Secret VC base
Gian Gua Can Tho is a local name, a 150 year-old heritage tree of Vietnam. The Ficus microcarpa tree now covers an area of 2,700 square meters, much smaller than it used to be, due to the aftermath of war and environmental impacts. It overwhelms visitors with its large roots and thousands branches and sub-branches intertwining to form an intricate and thick canopy, making it very difficult to identify which is root and which is branch. Some of the branches are left with traces of bombs as well. Top tip: Free entrance, hours: Daily. An instagramable place.
During Can Tho visit, you may stop by the local family - run business to see the process of how the hủ tiếu noodles are made from mixing tapioca & rice flour, then steaming, drying, and cutting the noodles. And you can taste the local Vietnamese "noodle pizza". Top tip: Entrance fee is flexible, hours: Daily 6 am to 5 pm. Find the real local noodle factory to meet your responsible travel.
Day 3 – Evening
It's time once again to choose your own steps! For your final night of 3 days in Can Tho, you'll want to be sure to get some nice sunset views. Here are a few options:
Can Tho weather is much healthier at night because of the city of river. Ninh Kieu Wharf is the best place to chill after a long journey, you can easily choose one of many rooftop bars here. Top tip: Free entrance, hours: 3 pm – 11 pm. Bring your camera!
Located on the bank of the Hau River in Can Tho city, is a calm and chill place to walk along in the late afternoon or the sunset time. Ninh Kieu Park is large and spacious, planted with many beautiful ornamental trees, the highlight of green grass growing and weaving among white cement panels and the statue of Uncle Ho with 7.2m high bronze. Top tip: Free entrance, hours: Daily. Some good restaurants here.
Can Tho Antique & Coffee Shop
If you are looking for something that characterizes French classical style in the heart of Can Tho, Duong Gia Chi Bao is a perfect selection for you. The interior space is a delicate blend of French colonial architecture and Indochinese architecture styles and has the light yellow walls, white ceilings, beautiful old-fashioned floors, curtains and lamps. This café also offers a wide range of antiques and furniture will touch you as if you are coming back to the memory house of ancient Can Tho. Top tip: Entrance fee is free if you pay for a drink, hours: Daily. Bring your camera and novel.
Bring your hat, sunglasses, and sunblock.
If you plan to spend a night in ecotourism areas, bring mosquito repellent cream.
When visiting the floating market or doing any river tours, choose reputable providers and boats equipped with lifebuoys and jackets. Safety is a priority!
Can Tho is magnificent itself, but if you have enough time, don't forget to put other Mekong Delta places onto your bucket lists such as Chau Doc (for Tra Su forest, then keep going to Cambodia), Sadec (land of flower all year round), and Soc Trang (for reaching Con Dao island)…
Bring the raincoat if you travel to Can Tho from August to October, as Can Tho and Mekong Delta always look fantastic in the full rain and full sun.
Hopefully, the above tips will help you to come up with a great plan for your adventure in Can Tho City. Have a safe trip!
Sleep less, travel more, respect more.