12 Hidden Gems in Can Tho - Secrets from The Locals
Unlock Can Tho's secrets, landmarks and spots that you'd be mad to miss, even if you're a local.
By Thomas Can Tho - September 18, 2019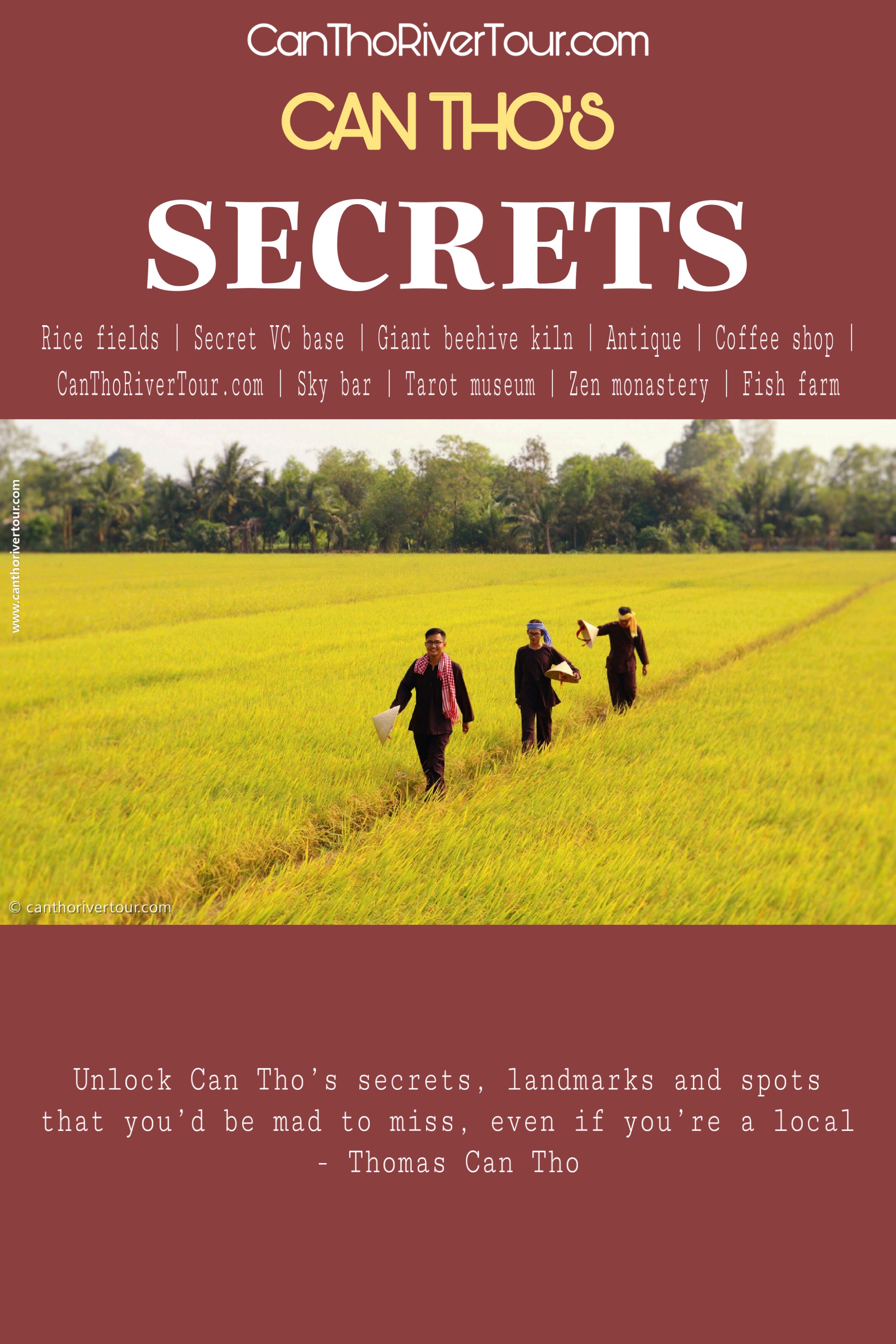 * The Official Guide to Can Tho Vietnam - Can Tho River Tour
* Guide to Visit Cai Rang & Phong Dien floating markets in Can Tho
* Best Time to Visit Can Tho | Weather & Travel Advice By Months
* Can Tho Airport (Code VCA) in Vietnam | Guide to Go Fast & Safe
1. Can Tho Paddy Rice Fields
As Mekong Delta build up over the years, they get formed in the shape of a triangle and the deposits in this formation are of rich alluvium, which are ideally suited for growing wet rice, as is done now extensively in the Mekong Delta where farmers and fishermen live to pursue their vocation of farming and aquafarming. Walking around the green or saffron yellow rice fields and learning deeply about the "white gold" in Vietnam are fantastic and educational experiences in Can Tho. Top tip: Free entrance, hours: Daily. Best time to see Can Tho and its rice fields is March, April, May. Off the beaten track with Can Tho scooter tours is a must.
2. Can Tho Giant Ficus Tree – Secret VC base
Gian Gua Can Tho is a local name, a 150 year-old heritage tree of Vietnam. The Ficus microcarpa tree now covers an area of 2,700 square meters, much smaller than it used to be, due to the aftermath of war and environmental impacts. It overwhelms visitors with its large roots and thousands branches and sub-branches intertwining to form an intricate and thick canopy, making it very difficult to identify which is root and which is branch. Some of the branches are left with traces of bombs as well. Top tip: Free entrance, hours: Daily. An instagramable place.
3. Can Tho Brick Kiln – Giant beehive Kilns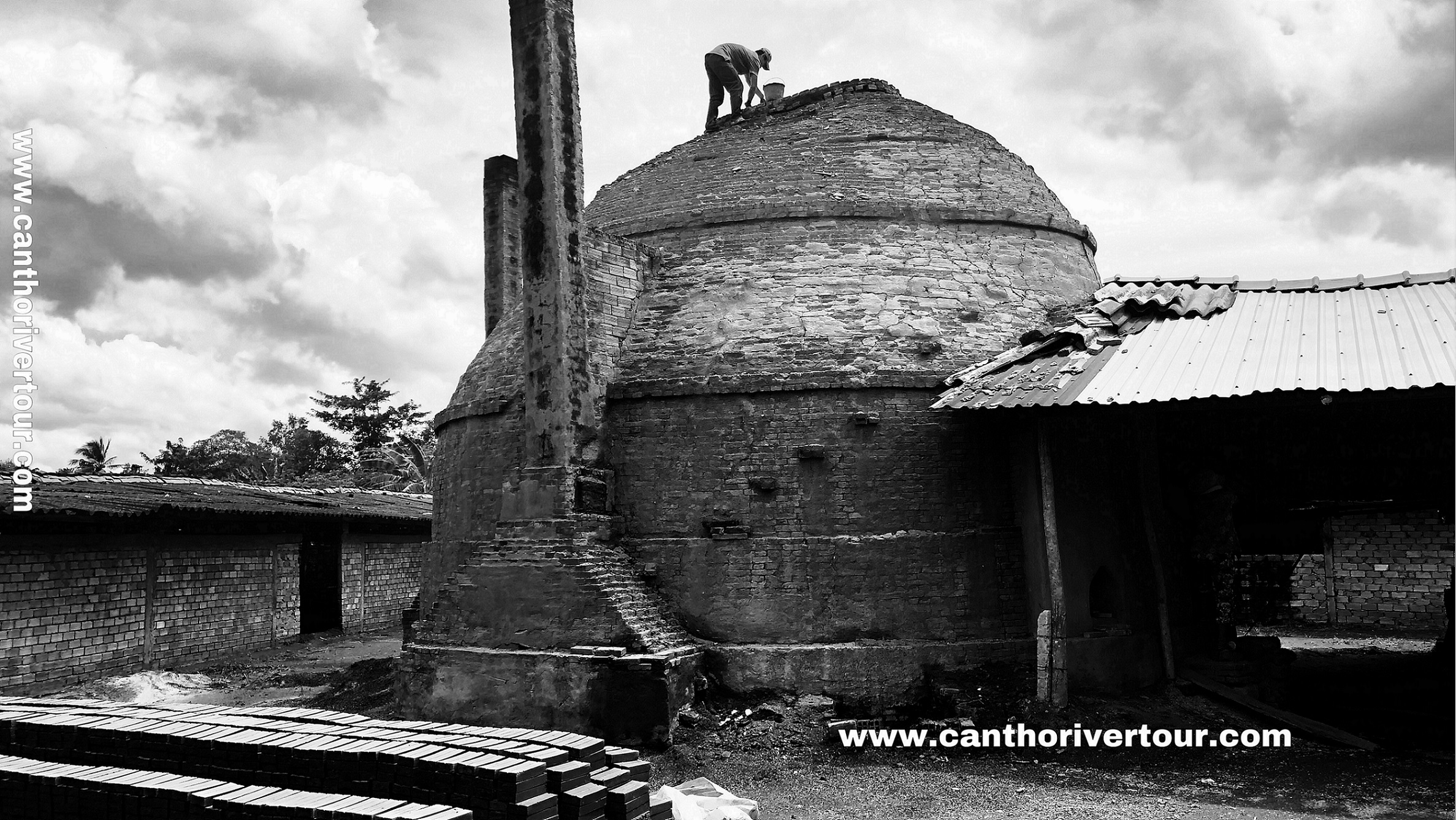 A cruise along Can Tho's tributary is full of unexpected hidden gems, but witnessing the images of red burning brick kilns along the canal's shores and of the daily life of the brick workers may be among the most surprising. Many traditional kilns of this type exist in various parts of Mekong Delta, Can Tho also has some of them because the three key ingredients of brick production – water, clay, and rice husks – are abundant. Top tip: Entrance fee is flexible, hours: Daily. A real local life which reminds you about Can Tho ancient time.
4. Can Tho Antique & Coffee Shop
If you are looking for something that characterizes French classical style in the heart of Can Tho, Duong Gia Chi Bao is a perfect selection for you. The interior space is a delicate blend of French colonial architecture and Indochinese architecture styles and has the light yellow walls, white ceilings, beautiful old-fashioned floors, curtains and lamps. This café also offers a wide range of antiques and furniture will touch you as if you are coming back to the memory house of ancient Can Tho. Top tip: Entrance fee is free if you pay for a drink, hours: Daily. Bring your camera and novel.
5. Can Tho Beach – Bien Can Tho
The man-made beach opened in Can Tho on Mekong river's bank – the local beach. Don't get us wrong, Can Tho beach will not challenge places like Phu Quoc, but it is still a nice place to visit. The locals clearly enjoy spending time there in the afternoon, sitting in one of the cafes at the beach, enjoying the relaxed atmosphere, great views of Can Tho bridge and local boats along the Hau river or using some of the water activities like jet ski or the boat ride, while kids were playing in the fresh water. Top tip: Free entrance, hours: Daily. Fresh water beach and a bit muddy, but it is fun and safe to make "a swim of your life in the magic Mekong river". Do not forget to wear the life jacket.
6. Can Tho Floating Markets & Small Canals
Many tourists have a limited time or they do not know how to explore Can Tho and its nature. Can Tho canals is one of the main reasons why Can Tho is more attractive because of its hidden gem, less touristy and super insight local unique culture. We assure that this Can Tho secret will make your trip more worthy. Top tip: Free entrance, hours: Daily. Best way to see it by Can Tho sampan, Can Tho cycling tour or scooter tour.
Can Tho weather is much healthier at night because of the city of river. Ninh Kieu Wharf is the best place to chill after a long journey, you can easily choose one of many rooftop bars here. Top tip: Free entrance, hours: 3 pm – 11 pm. Bring your camera!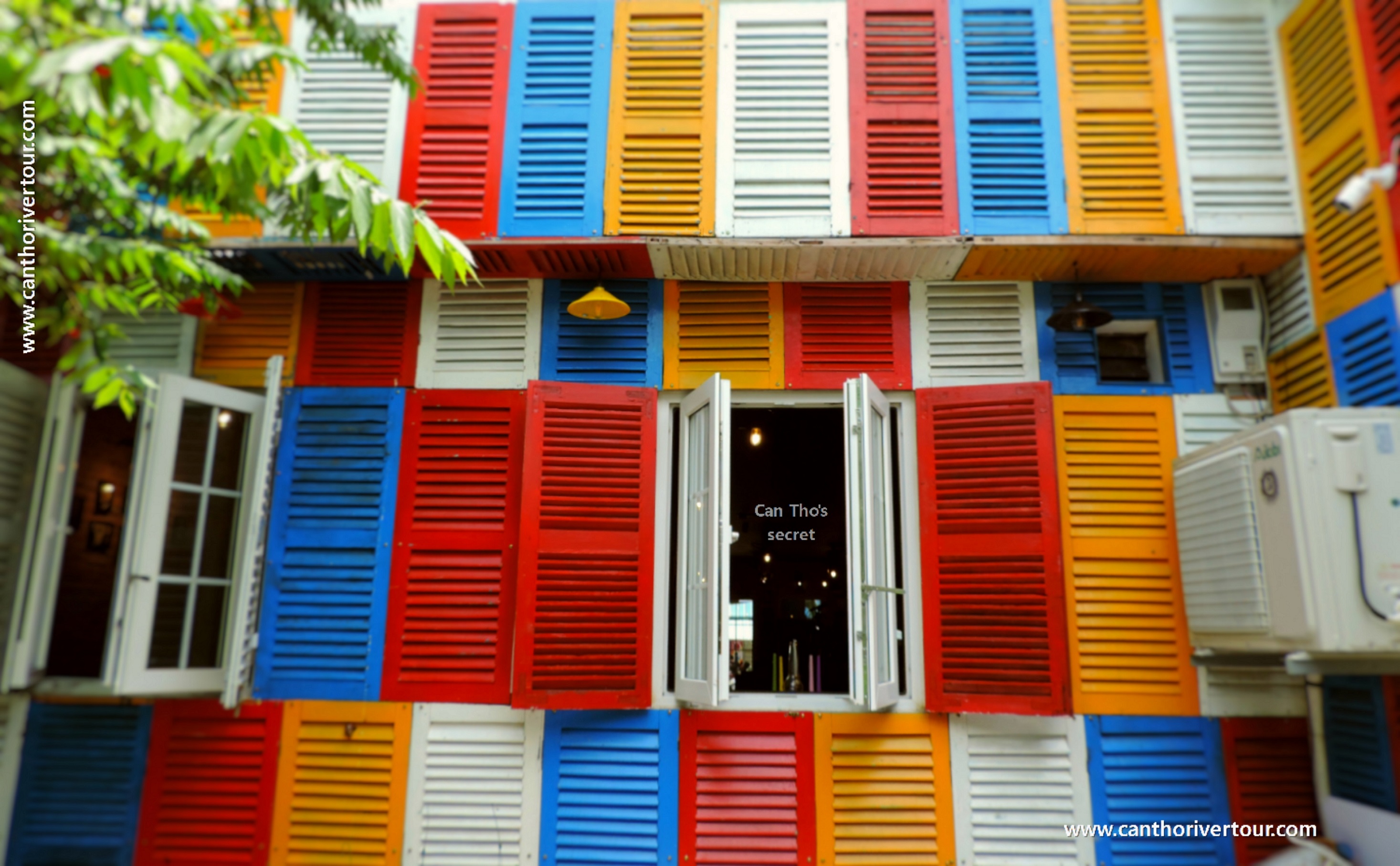 Can Tho River Tour is a well-regarded travel and tour company (Int. Tour Operating License: 91-005/Issued by: Ministry of Tourism Vietnam), set up by a group of passionate Can Tho locals. The company specializes in hand-crafted, intimate group and private guided tours with unique activities: Can Tho floating market & wildlife, small canals & sunset, fruit gardens & rice paddies, cacao farm & wetland nature reserve, noodle factory and off the beaten track by bicycle, Can Tho city tour by boat, exclusive walking street food tour, private transfer to surroundings areas and Ho Chi Minh City and licensed local expert tour guides to match all your travel preferences and wishlists. Custom tours are also available, by boat, sampan, bike, scooters, van, car. WhatsApp/Hotline/Viber/Wechat +84908169205; canthorivertour.com
Museum of Tarot is located in Can Tho City, in the south of Vietnam. It is combined from six main collections related to Art of Cartomancy: Fortune Telling Cards (Tarot and Oracles decks); Books and Historial Documents about Fortune Telling Cards; Art of Cardmaking and Decoration of Fortune Telling Cards (Tarot and Oracle); Art of Magic and Divination tools; Magic Stones and Lithotherapy Crystals; Art of Demonology and Haunted Objects. The objects of museum have a large variety in time from 15th century to 21th century. Top tip: Entrance fee is flexible, hours: Daily 10 am - 12 pm, 1 pm - 5 pm. A person from the museum will guide you.
10. Truc Lam Phuong Nam Zen Monastery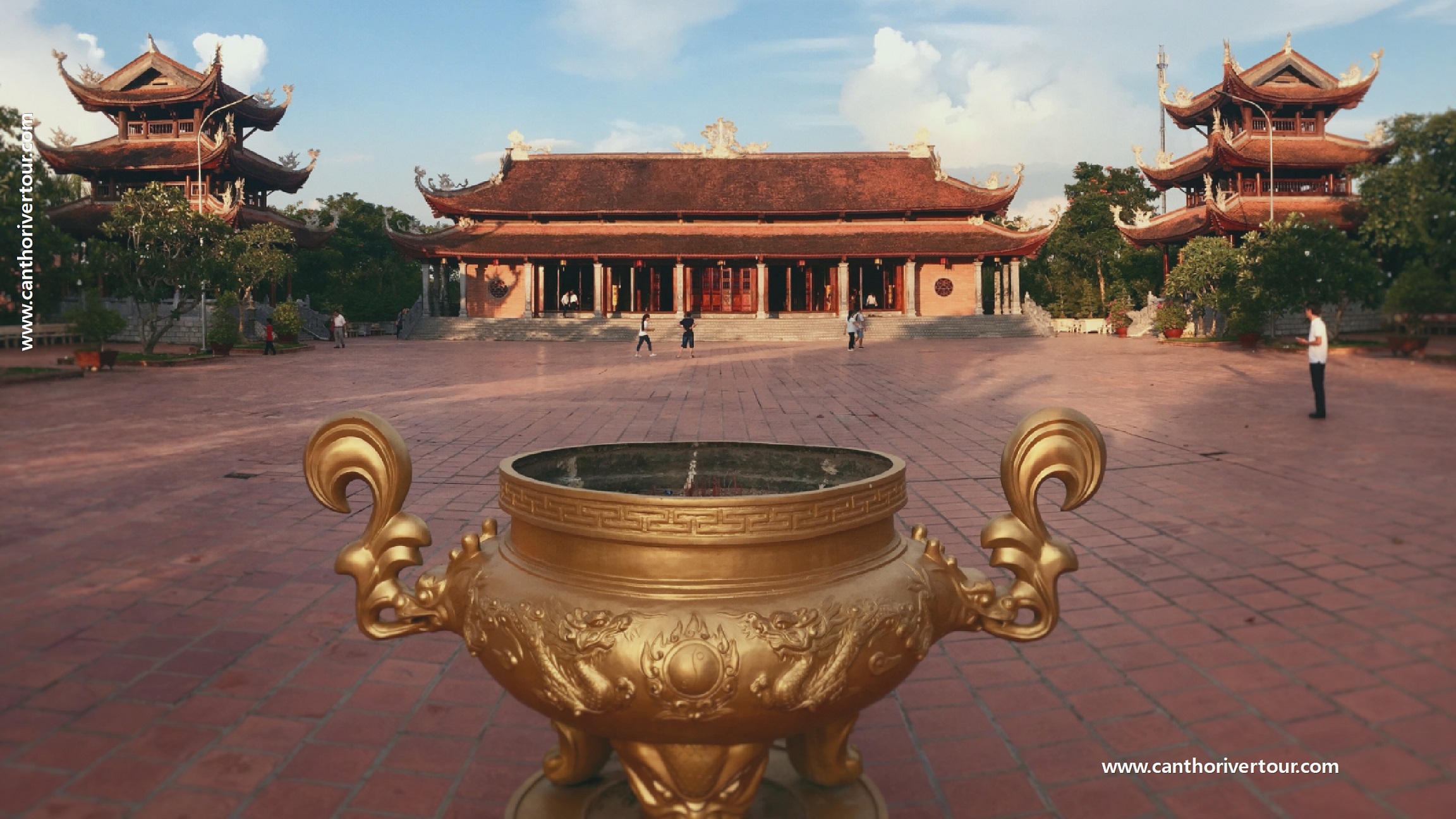 As one of the largest Buddhist temples in the Mekong Delta, more than 38,000 square meters, is the largest monastery in Can Tho. Southern Truc Lam Zen Monastery is quiet, spiritual and huge with several lakes, pagodas, and many Buddhist statues near the entrance. It's not in the Can Tho city center, so you may reach there by motorbike or taxi. Top tip: Free entrance, hours: Daily. Wear appropriate clothing & take off your shoes.
11. Con Son Ecotourism Village
Con Son islet lies on the Hau tributary, Mekong river, so to get there you need to take a boat. This place is community-based tourism where locals share their cultural life. This allows the locals to support themselves and improve livelihoods. Most of the families take part in tourism and each family has different interests or activities to offer the visitors. Top tip: 15,000 VND/ticket, hours: Daily 7 am – 5 pm. The islet is acceptable for all time walking, not cycling or crusing.
12. Can Tho Floating Fish Farm
Located to the North East of Can Tho city center. Can Tho floating fish farm is a freshwater fish farming village formed in the last decades. Visitors can come and enjoy seeing & feeding fish by themselves and you can take leisure time to interact with the fisherman to learn about different interesting colorful freshwater fish and unlock the secrets of the river habitats on the Mekong river. Top tip: 10,000 VND/ticket, hours: Daily 7 am – 5 pm. The floating fish farms are mainly private houses. Visitors must seek permission to board.
Bring your hat, sunglasses, and sunblock
If you plan to spend a night in ecotourism areas, bring mosquito repellent cream
When visiting the floating market or doing any river tours, choose reputable providers and boats equipped with lifebuoys and jackets. Safety is a priority!
Can Tho is magnificent itself, but if you have enough time, don't forget to put other Mekong Delta places onto your bucket lists such as Chau Doc, Sadec, and Soc Trang…
Bring the raincoat if you travel to Can Tho from August to October, as Can Tho and Mekong Delta always look fantastic in the full rain and full sun.
Hopefully, the above tips will help you to come up with a great plan for your adventure in Can Tho City. Have a safe trip!
Sleep less, travel more, respect more.