BEST EXTENDED STAY CẦN THƠ HOTELS, VIETNAM – ISLET, RIVERSIDE, AS HOME
By Thomas Can Tho Aug 11, 2019
As a Can Tho travel expert, I regconized top-notch resort/hotels in Can Tho for your worth experiences.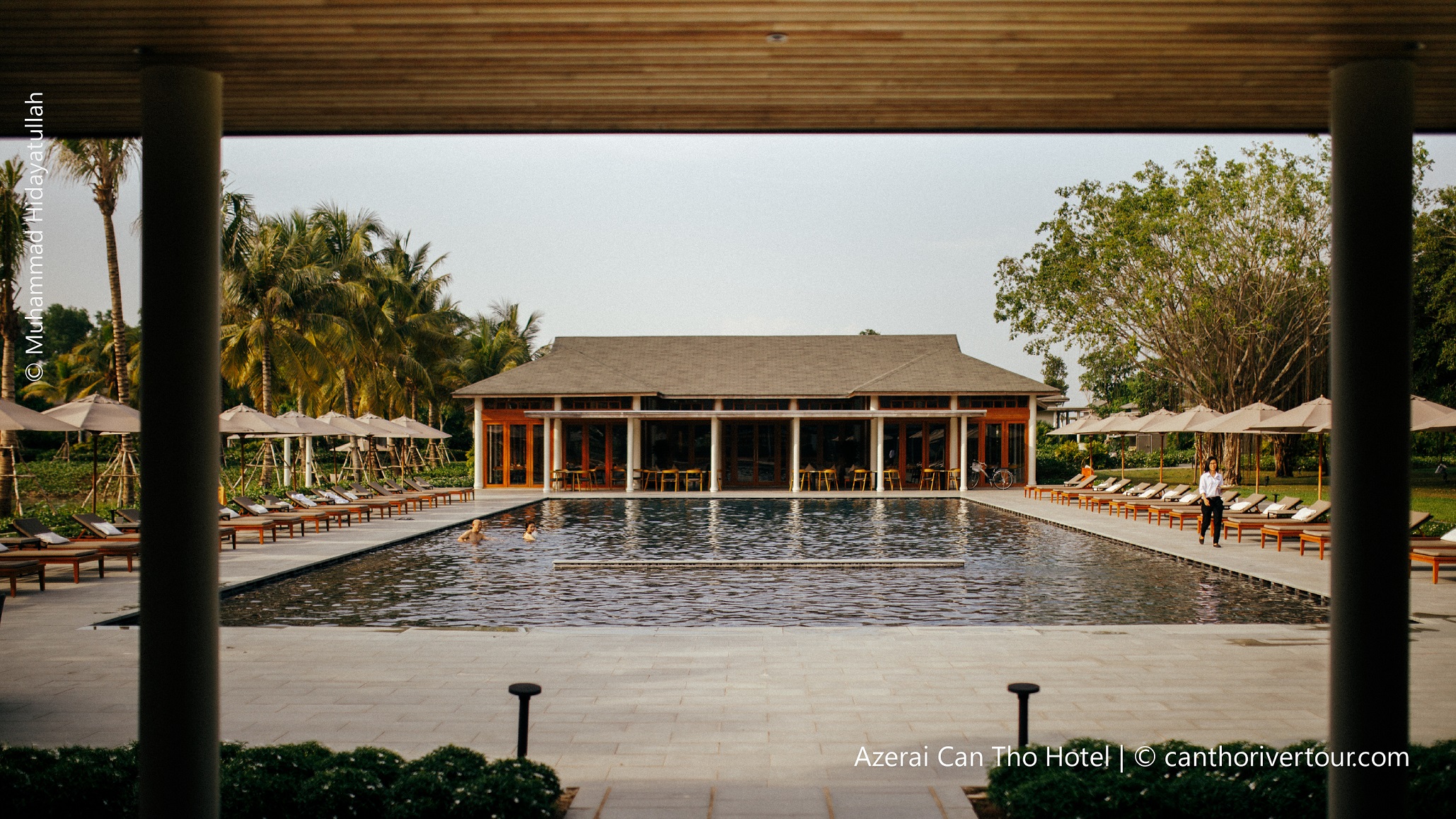 RESORT: AZERAI CAN THO
Azerai resort is one of the best-rated resorts & its' locations in Can Tho, Vietnam! Azerai 'affordable luxury' resort, is a unique oasis of calm on culturally fascinating Hau River, a tributary of the Mekong. It is created by Aman-founder Adrian Zecha. Its exclusive setting means is only accessed by boat, with easy transfers to and from the hotel's pier to the city of Can Tho.
Why We Like It. A unique oasis of calm on culturally fascinating Hau River, a tributary of the Mekong; Lush, mature surroundings with iconic banyan trees that are found across the property; Unique entry to the property, only by speed boat; Minimalist rooms that bring forward the best design sensibilities – both aesthetic and functional.
Location. A three-hour drive south of Saigon, the hotel is in Can Tho, the largest city of the Mekong Delta. To reach the hotel, you first arrive in a pavilion style boathouse where small speed boats will take you to and from the property. Entering the hotel's dock, you'll find it nestled in a small enclave of the canal amidst rows of trees that hide it from the shore's view. The hotel is set among an impressive array of banyan trees, ensuring a lush and secluded vibe.
The Room. The stylish and contemporary accommodation includes 60 rooms & villas with river, lake, or garden views.Each room is beautifully designed, fully equipped, and has a peaceful atmosphere. Come to Azerai Can Tho Resort and complete your romantic diary in the Mekong Delta!
Dining. The property features two restaurants, one offering bistro style seating and food, the other a grill. The food offerings are both Vietnamese and international. Guests can dine in at the on-site restaurant, which serves a variety of Vietnamese and grilled/BBQ dishes.
Amenities. Azerai Can Tho's bungalows frame a central courtyard with a pool and lake side bar. During the day, guests of all ages bike around the trails surrounding the property. For those preferring a slower day, you can also rest poolside. At night, the crowd moves towards the bar and dining areas, both of which offer expansive indoor and outdoor seating with views of the river and lake. The hotel provides complimentary Wi-Fi and free water in eco-friendly glassware. The accommodation offers a year-round outdoor pool and a fitness centre, which featues pilates and yoga studio, spa and sauna facilities. You can play tennis at Azerai Can Tho. On the top of that, the resort has a wonderful room as a kid's club with fun games and activities for children.
Bottom Line. A relaxing bungalow setting with world class touches, the Azerai Can Tho combines the familiarity of a global five-star brand with the eclectic touch of a boutique hotel.
More information
Address: Con Au Islet, Hung Phu, Cai Rang Ward, Can Tho City
Google maps location: Azerai Can Tho Resort
Phone: +84 292 3627888
Website: https://www.azerai.com/can-tho
Price range: From 5,888,000 VND (~ 256 USD)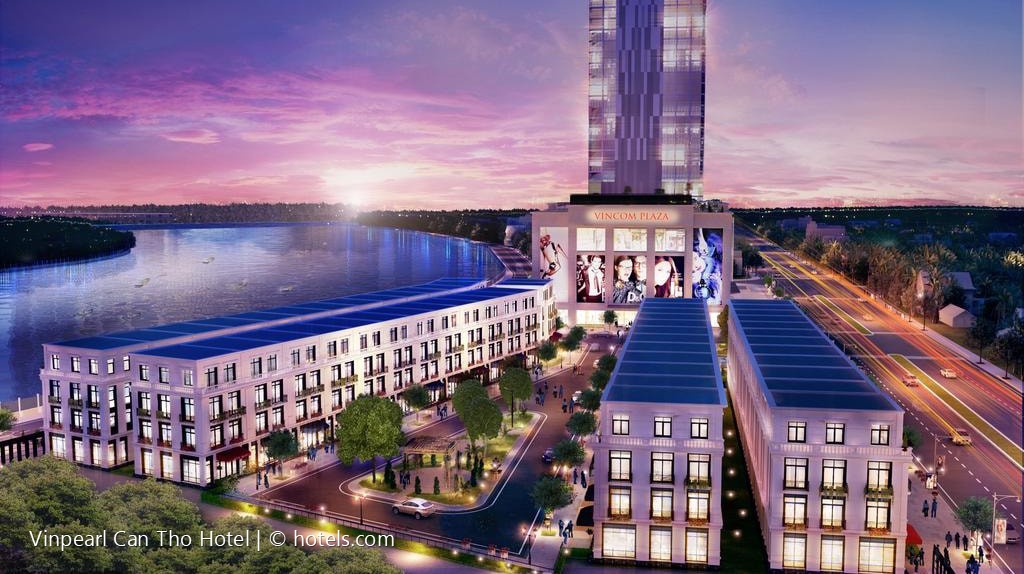 HOTEL: VINPEARL CAN THO
Vinpearl Hotel is one of the best extended stay 5-star hotels in Can Tho! Located in Ninh Kieu district , with the romantic and serene view of Can Tho river, Vinpearl Can Tho Hotel, as part of the Complex of 5 star hotel, high end shopping and entertainment center, is an ideal travel destination with a combination of modernity and traditional culture of Can Tho where you and your beloved family can experience wonderful moments.
Amenities. There are 262 rooms spread over 23 floors, with each having all the amenities needed to make your stay as comfortable as possible. The views from the rooms are actually some of the best you can get in the city. Within the hotel are a fitness centre, spa, outdoor pool, a pool bar, two restaurants, fitness center, kids' club and a tour desk. There is also a daily buffet breakfast.
More information
Address: 209 30/4 Street, Ninh Kieu Dist, Can Tho City
Google Maps location: Vinpearl hotel
Phone: +84 2923761888
Website: Vinpearl hotel Can Tho Webpage
Price range: From 1,265,000 VND (~ 55 USD)
CITY CENTER HOTEL: KQ
KQ hotel is one of the most favorite and walking-distance hotels. It offers very affordable luxury combining modern elegance, refined garden design and great caring stay. It is located in Can Tho city center, 400 metres from Ninh Kieu riverside Pier.
Amenities. There are 23 rooms of personal experience mixed with smart eclectic touch in the hotel. Tourists can choose between different types of rooms: family room with bath, deluxe double room with balcony, standard double room with terrace, junior suite with garden view. Lodgers at the hotel have facilities such as minibar, safety deposit box, telephone, air conditioning, hairdryer, refrigerator, desk, along with free WiFi. The bilingual staffs and concierge service are always available at a 24-hour front desk to assist guests with check-in or arranging room service, tickets & shuttle transfer, laundry service, currency exchange, recommending best things to do and see in Can Tho and other inquiries. On the top of that, Lion City restaurant, the only halal-certified restaurant in Can Tho city center, is on the ground floor of KQ hotel serving both internal and walk-in guests.
Bottom Line. This property is also rated for the best value in Can Tho! Guests are getting more for their money when compared to other properties in this city.
More information
Address: 09 Nam Ky Khoi Nghia street, Ninh Kieu Dist, Can Tho City
Google Maps location: KQ hotel
Phone: (+84) 292 3731 313
Best rooms with: Booking. Com/KQhotelcantho
Price range: From 707,000 VND (~30 USD)
Sleep less, travel more, respect more.
Thomas Can Tho