THE OFFICIAL GUIDE TO CAN THO VIETNAM
Can Tho is the capital city as well as a commercial hub in Mekong Delta, Vietnam with population of 1.6 million (2016). This charming city is contiguous to 5 other provinces: An Giang, Dong Thap, Hau Giang, Kien Giang and Vinh Long which makes it more convenient for visitors to explore the typical life of locals in the South of Vietnam.
By Thomas Can Tho – April 03, 2021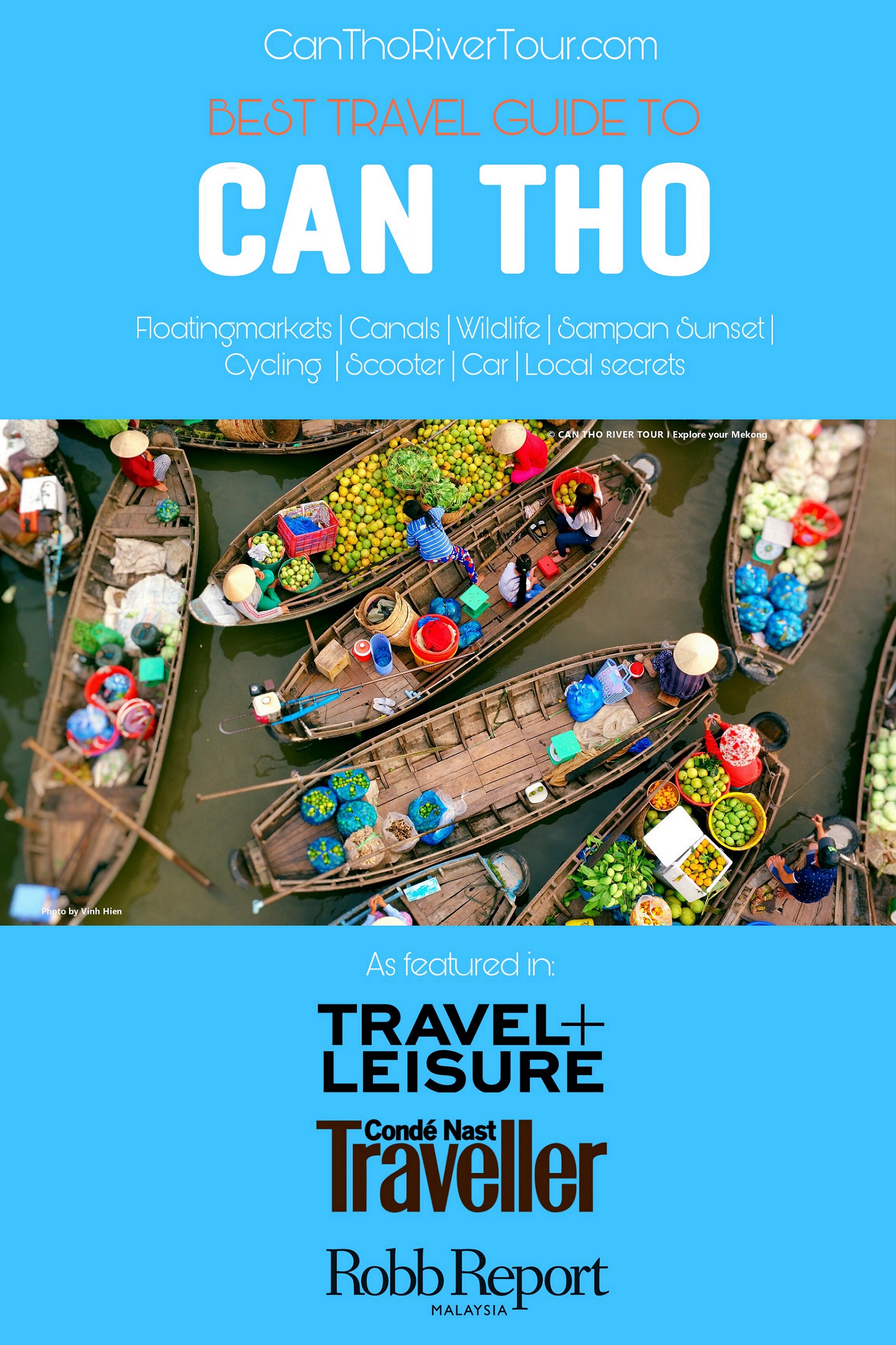 1. Boat ride to visit Cai Rang & Phong Dien floating markets
Cai Rang floating market. The largest floating marketing in Can Tho, and one of the most popular ones in the world. It is crowded and noisy (with many tourist boats), but still fascinating. The market, about 6 km (3,7 miles) or 30 minutes by boat from Can Tho, starts trading at around 4 am, in the dark, and is usually finished by 10 am.
Phong Dien floating market. About 20 km (12,4 miles) southwest of Can Tho, the Phong Dien is one of the most lively and charming markets and, as an added bonus, less popular with tourists who usually visit the Cai Rang floating market that's closer to Can Tho. There are just about 20 small nice sampans (traditional farmer's boat uses in small villages and small canals) boats every day.
How to get to the markets. From Ho Chi Minh city: Take a sleeping Futa bus to go to Can Tho (about 5 hours one way) and rent a sampan by yourself or book a package Can Tho Tour From Ho Chi Minh 1 Day (HCM-Can Tho-HCM), start at 04:00 AM from Ho Chi Minh city; 119$ per person). From Can Tho: you can start the floating market tours with many departures at 4:30 AM, 5:00 AM, 6:00 AM, 7:00 AM
2. Tropical fruit garden
Along with the floating market, visiting fruit gardens is also a must-do in Can Tho. To get to the gardens, you also have to use boats to go deep into the water maze and enter numerous small natural canals.
3. Ba Bo Flower Village
What a wonderful moment to see the flowers as the local's smile on Tet coming holidays. The worth visiting village in Can Tho is the Ba Bo Flower Village where nearly 250 households in the 20-hectare community cultivate dozens of species of flowers and ornamental plants. The only way to unlock the secret of the flower villages is to take Can Tho cycling tours or Can Tho motorbike tours.
4. Can Tho night market
It is divided into two zones. The first one (Ninh Kieu night market) sells clothes handicrafts, souvenirs, jewelry, foods, coffee on the pavement…and the other night market zone (coconut market) serves food from dozens of mobile stalls, with vendors who are well versed in the point-and-nod style of ordering. Food stalls start appearing at around 6 pm to 11 pm each day.
5. Romantic Sampan 247 (from 3 pm to 6 pm)
Take an exclusive tour "Romantic Sampan 247" of CanThoRiverTour.com in the afternoon & navigate quiet canals as you sit back with your loved one. See Can Tho bridge from the water as you sail through a tranquil islet. Visit the unique local brick kiln. Small bottles of fruit cider in an ice cooler box will be provided during the trip! What a romantic Mekong river moment!
6. Can Tho River Tour Co., LTD
Can Tho River Tour is a well-regarded travel and tour company (Int. Tour Operating License: 91-005/Issued by: Ministry of Tourism Vietnam), set up by a group of passionate Can Tho locals. The company specializes in hand-crafted, intimate group and private guided tours with unique activities: Can Tho floating market & wildlife, small canals & sunset, fruit gardens & rice paddies, cacao farm & wetland nature reserve, noodle factory and off the beaten track by bicycle, Can Tho city tour by boat, exclusive walking street food tour, private transfer to surroundings areas and Ho Chi Minh City and licensed local expert tour guides to match all your travel preferences and wishlists. Custom tours are also available, by boat, sampan, bike, scooters, van, car. WhatsApp/Hotline/Viber/Wechat +84908169205; canthorivertour.com
7. Organic Cacao farm
A visit to Lam The Cuong Cacao Farm is both fun and educational experience. Visitors can see and learn how fruit from a cacao tree becomes familiar cacao products such as cacao powder, butter...and of course pure chocolate in a manual way by the local.
8. Rice noodle factory
During your Can Tho visit, you may stop by the local family-run business to see the process of how the hủ tiếu noodles are made from mixing tapioca & rice flour, then steaming, drying, and cutting the noodles.
9. Ninh Kieu Wharf
It is located on the bank of the Hau River in Can Tho city, a calm and chill place to walk along in the late afternoon or the sunset time. Ninh Kieu Park is large and spacious, planted with many beautiful ornamental trees, the highlight of green grass growing and weaving among white cement panels and the statue of Uncle Ho with 7.2m high bronze.
10. Can Tho Walking Bridge
If you get to the park by night, it is a time to see Can Tho walking bridge with 2 gigantic lotus flowers made of thousands of neon lights that brighten up the whole area. This is a great spot for taking pictures from the rooftop bar or just simply enjoying the great river view of Can Tho at night.
By Air. In 2011, Can Tho International Airport opened. It is served with flights to Kuala Lumpur (Malaysia), Bangkok (Thailand), Ha Noi, Phu Quoc, Da Nang, Con Dao, Nha Trang, DaLat,...Currently, there aren't any direct flights from Saigon to Can Tho, so you have to transit at Phu Quoc or Da Nang Airport for a few hours before continuing onto Can Tho.
By Coach. From Ho Chi Minh city. You can catch a bus from the Western bus station, depart from 7 am to 10 pm, (address: 395 Kinh Duong Vuong, An Lac Ward, Binh Tan District, Ho Chi Minh City) with the time to travel to Can Tho is 3,5 hours, to buy tickets or contact system of specialized vehicles running Saigon - Can Tho route such as: Phuong Trang (Futa bus lines), add: 272 De Tham, District 1. For your return trip, you can pre-book your tickets (Futa Can Tho, phone +842923769768) or have your accommodation help reserve the tickets for you.
In Can Tho, It is best visited between December and February when it is cool and dry at night, while monsoon rains saturate the place between July and November. If you don't like excessive heat, avoid March to June. Therefore, it doesn't really matter when you visit, as the Mekong Delta looks fantastic in full sun and full rain. Travel companies may list tours for the rainy period, but plan your trip dates carefully or your trip may be a washout.
Nem Nuong Thanh Van. Speaking of Can Tho's cuisine, nem nuong Thanh Van is surely a name not to overlook. The ground pork is rolled into small balls, strung by bamboo sticks and then grilled on charcoal. The smoky scent from the grill entices passersby to pull up a stool. Add: 17, Hoa Binh Avenue; Tel: +84 292 3827 255; Prices: 50.000 VND - 110.000 VND; Opening hours: 6:30A.M–9:30P.M
Sao Hom. The restaurant overlooks the local market on one side and the river on the other side. While you sit on the waterfront with a slight breeze, your experience is only enhanced further by the English speaking, friendly and attentive staff. The restaurant offers Asian and Vietnamese cuisines. Make reservations before heading here. Add: Can Tho market, Hai Ba Trung street; Tel: +842923815616; Prices: 300.000 VND - 550.000 VND; Opening hours: 06:00 A.M - 11:00 P.M
Resort: Azerai Can Tho. Azerai resort is the best-rated resorts & its' locations in Can Tho, Vietnam! Azerai 'affordable luxury' resort, is a unique oasis of calm on culturally fascinating Hau River, a tributary of the Mekong. Its exclusive setting means is only accessed by boat. The Azerai Can Tho combines the familiarity of a global five-star brand with the eclectic touch of a boutique hotel. Add: Con Au Islet, Can Tho City, phone: +84292 3627888; website: Azerai Can Tho; price range: From 5,888,000 VND (~ 256 USD)
City center hotel: KQ hotel is one of best favorite walking-distance hotels in Can Tho. It offers very affordable luxury combining modern elegance, refined garden design and great caring stay. Lion City restaurant, the only halal-certified restaurant in Can Tho city center, is on the ground floor of KQ hotel serving both internal and walk-in guests. Add: 09 Nam Ky Khoi Nghia street, Can Tho City; phone: +842923731313; website: KQ Can Tho hotel; price range: From 707,000 VND (~30 USD)
Bring your hat, sunglasses, and sunblock
If you plan to spend a night in ecotourism areas, bring mosquito repellent cream
When visiting the floating market or doing any river tours, choose reputable providers and boats equipped with lifebuoys and jackets. Safety is a priority!
Can Tho is magnificent itself, but if you have enough time, don't forget to put other Mekong Delta places onto your bucket lists such as Chau Doc, Sadec, and Soc Trang…
Bring the raincoat if you travel to Can Tho from August to October, as Can Tho and Mekong Delta always look fantastic in the full rain and full sun.
Hopefully, the above tips will help you to come up with a great plan for your adventure in Can Tho City. Have a safe trip!
Sleep less, travel more, respect more.